Yearly Activities at CHCO
---
Over the years the Cumberland Historic Cemetery Organization has always kept very busy.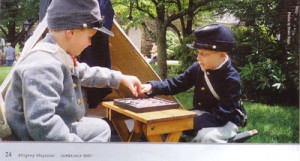 From Allegany Magazine June, July 2007
Heritage Days Festival
Blue and gray and red and black.
Both sides of the war between the states take time for a friendly game of checkers during the Civil War Encampment.
Jacob Radkinsky in blue is a member of the third MD reg vol. infantry co. B, while Leland E. Taylor is a member of Cumberland Historic Cemetary Organization.
Heritage Days Festival 1999, members of photo displayed at SS. Peter & Paul Cemetery, V.P. Mel Collins, Eleanor Knotts, Rosemary Chapman.
Heritage Days 1994 member Jim Klipstein with Civil War display at SS. Peter & Paul Cemetery.
Heritage Days Festival 2000, CHCO gives a free bus tour of Cumberland's West Side on the way to the cemetery. Passengers board in downtown Cumberland.
Memorial Day 1997 at the CHCO Union Soldiers monument erected by the CHCO in 1991 at Sumner Cemetery. Each Memorial Day this event is held.
Several times a year tours are given of adopted and affiliated cemeteries. School group tours of Sumner Cemetery.
On All Souls Day, November 2, 1996, the organization unveils a ledger crypt at the grave of Dr. Benjamin Cromwell. He was the personal physician for Gen. Robert E. Lee during the Civil War and was a well loved man in the area. The grave is located at Frostburg Memorial Park, Frostburg, Md.
All Souls Day, Nov. 2, 1998, members and the family of CHCO Secretary Florence Finan unveil her monument at Hillcrest Memorial Park, Cumberland. Finan served as a wonderful secretary to the organization from 1991 to the time of her death in 1998.
Members at the CHCO 1999 picnic at the farm of members Dr. Paul and Mrs. Fay Snow.
Dec. 14, 2002, CHCO Christmas Party. Tres. Christina Taylor, Pres. Ed Taylor, Jr., MD House of Delegate 1-C LeRoy Myers, Chaplin Judy McKenzie, Sec. Linda Mulligan.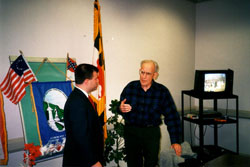 Local states attorney Michael Twigg speaks with CHCO board members and former Cumberland Mayor Tom Conlon at a CHCO function about local issues.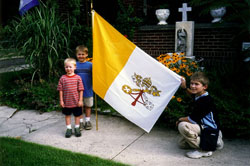 Taylor children display Vatican flag to promote Christianity in the beginnings of the history of our nation. St. Michael monument in background of photo built by the organization in 2003. Photo taken at 400 Allegany St. Cumberland, MD.