News Releases From 2017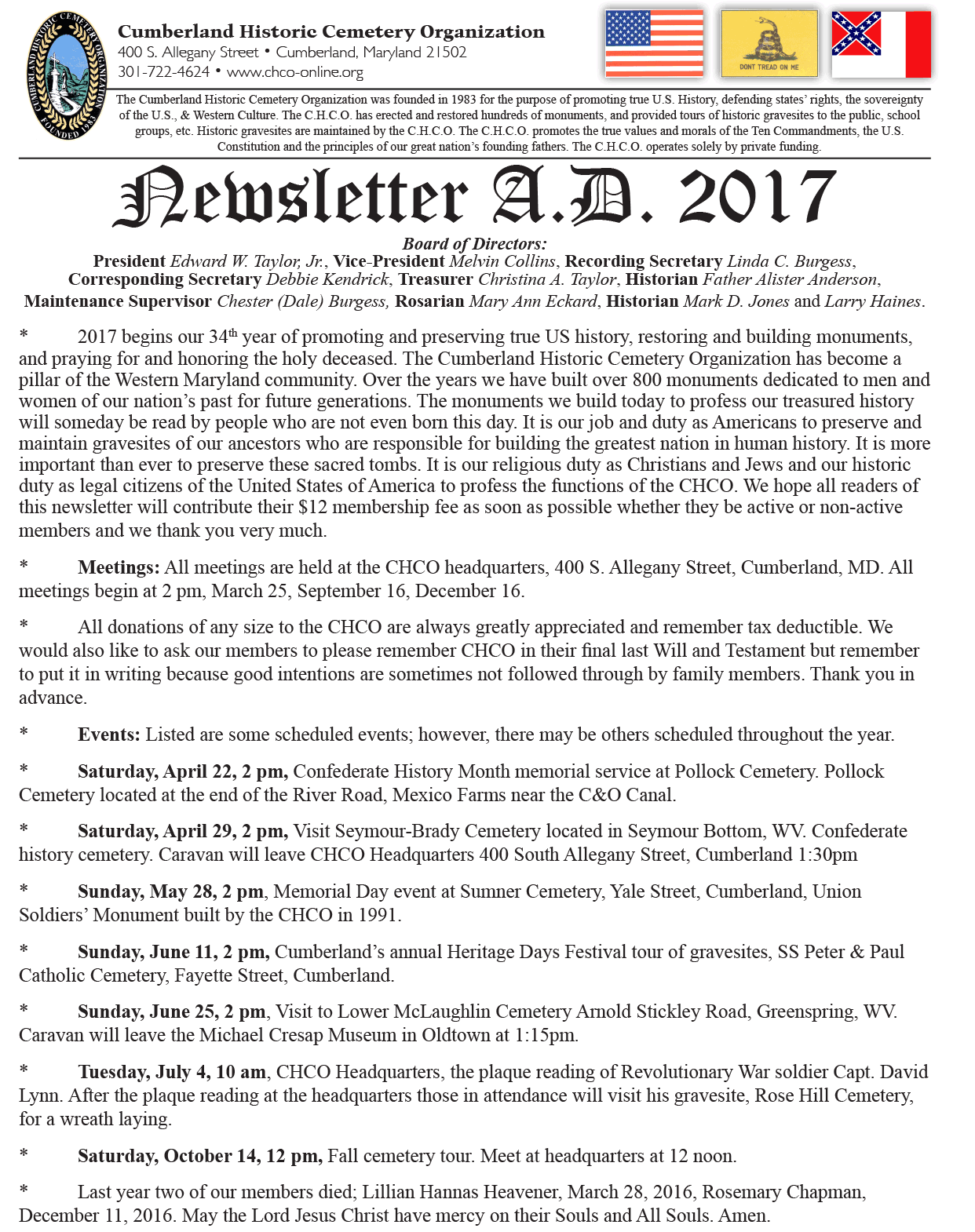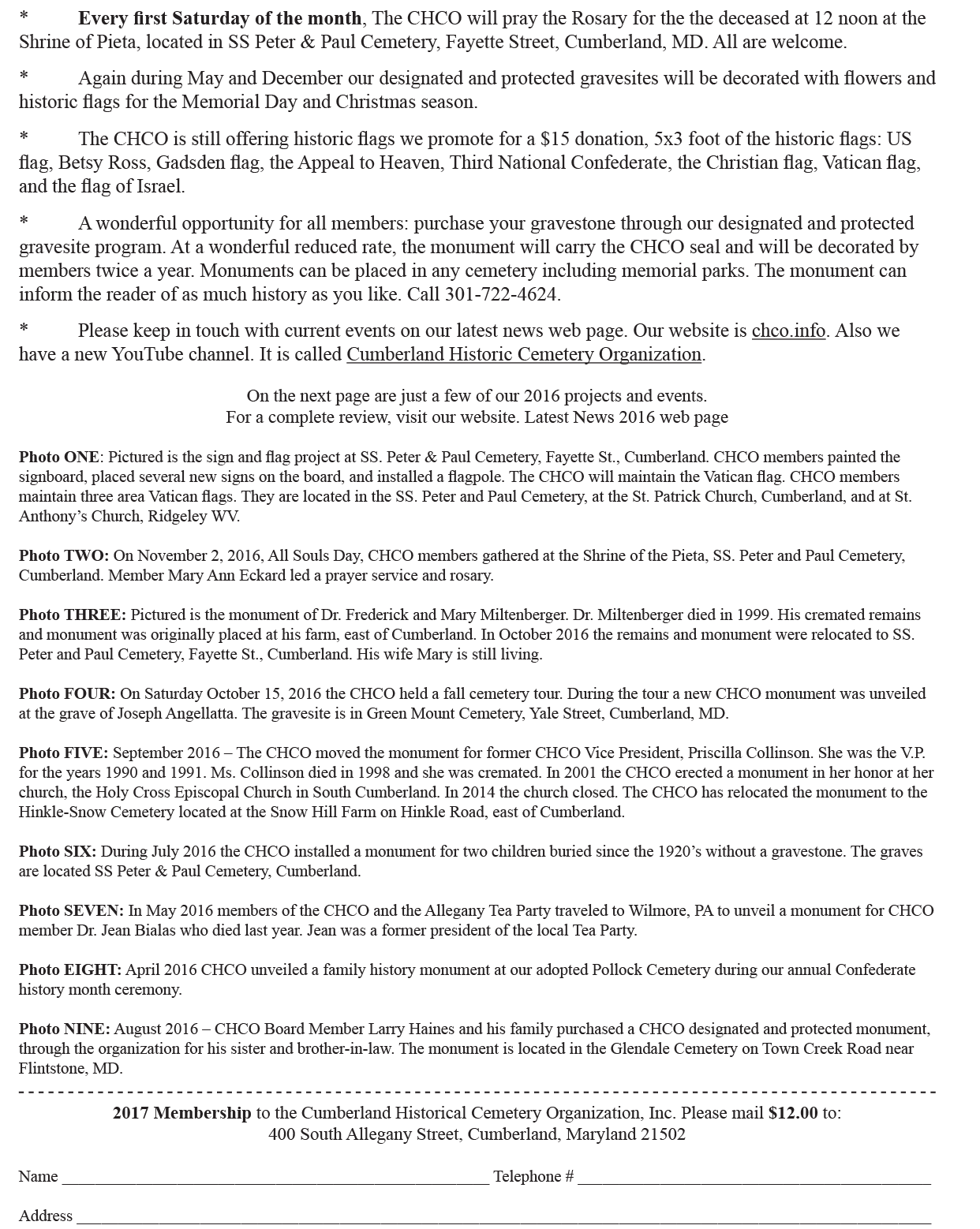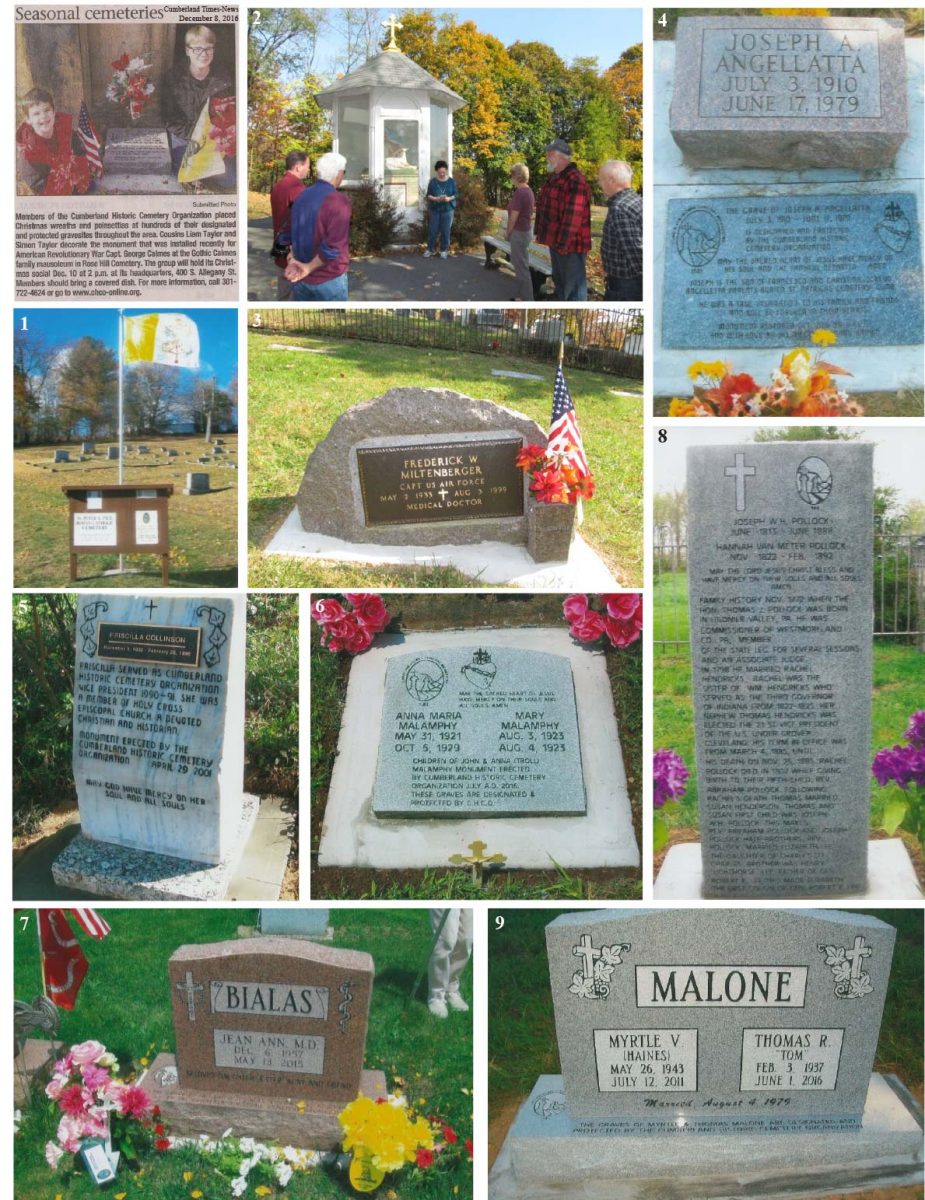 The Cumberland Times-News
June 30, 2017
COMMUNITY NOTES
Cemetery group to hold service
The Cumberland Historic Cemetery Organization will hold a memorial service July 4 at 10 a.m. at its headquarters, 400 S. Allegany St. A red granite history plaque was installed in 2008 in honor of American Revolutionary War Capt. David Lynn on the brownstone columns erected in 1801. The plaque will be read before a ceremony at nearby Rose Hill Cemetery at Lynn's grave site. The CHCO placed a gravestone there in 2015.
Several other Revolutionary War veterans' graves where the CHCO placed gravestones over the years will be visited.
The rosary will be recited for the deceased and the nation at the Shrine of the Pieta in nearby SS. Peter and Paul Roman Catholic Cemetery on Fayette Street.
For more information, call 301-722-4624 or visit www. chco.info.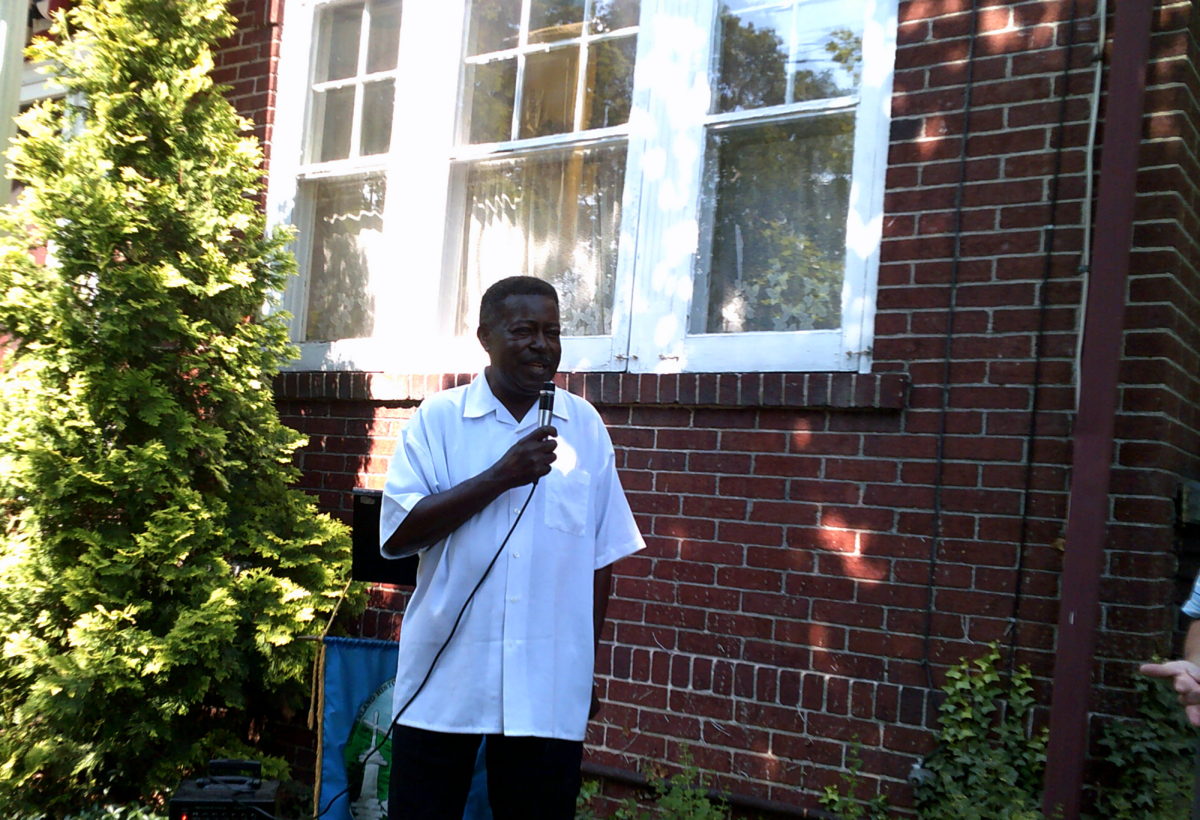 Rev. Alfred Deas gives a prayer.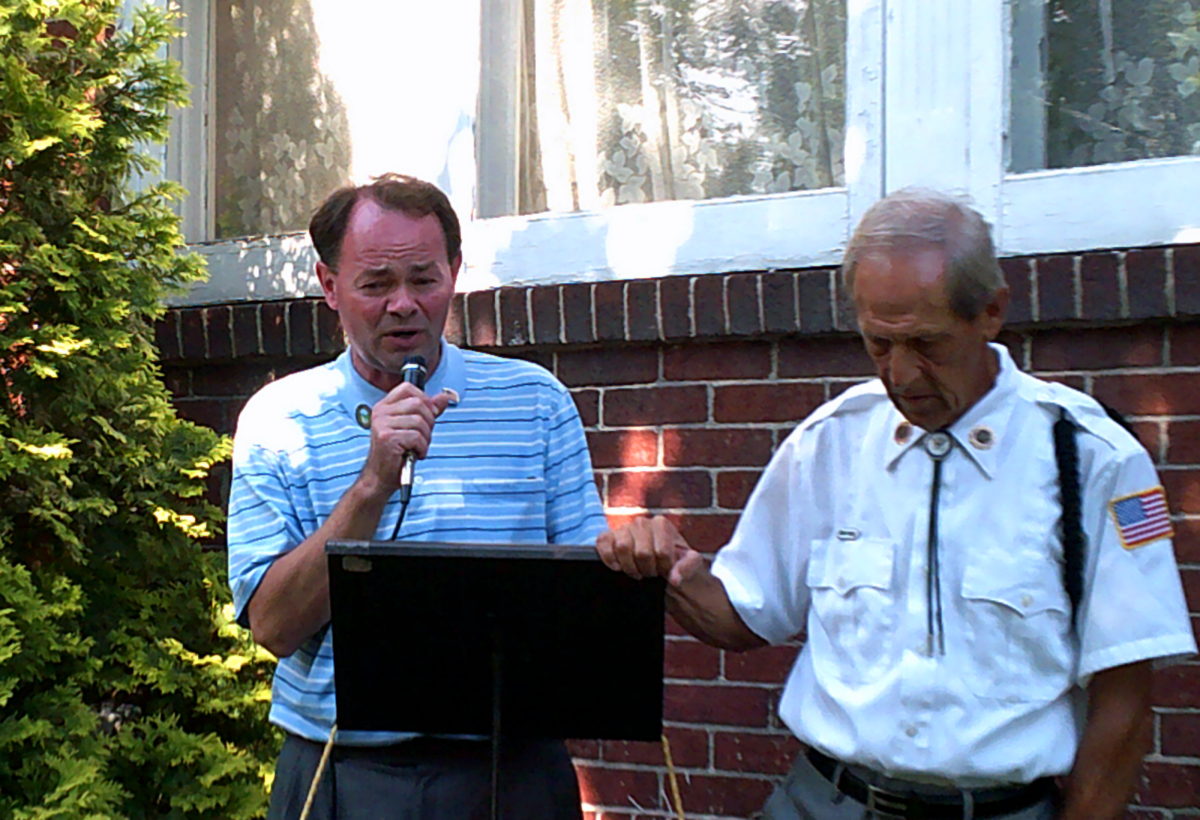 Ed Taylor and Chester Dale Burgess open the ceremony.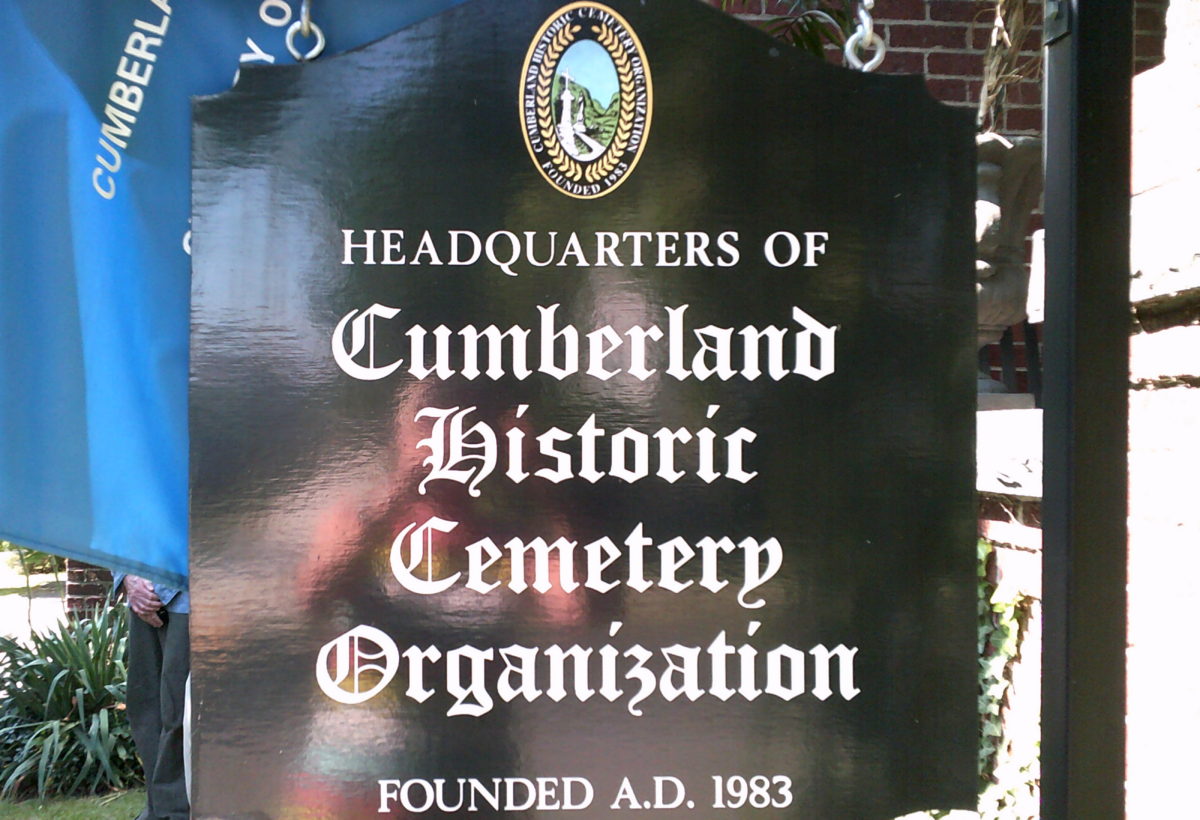 Captain David Lynn Plaque at CHCO Headquarters.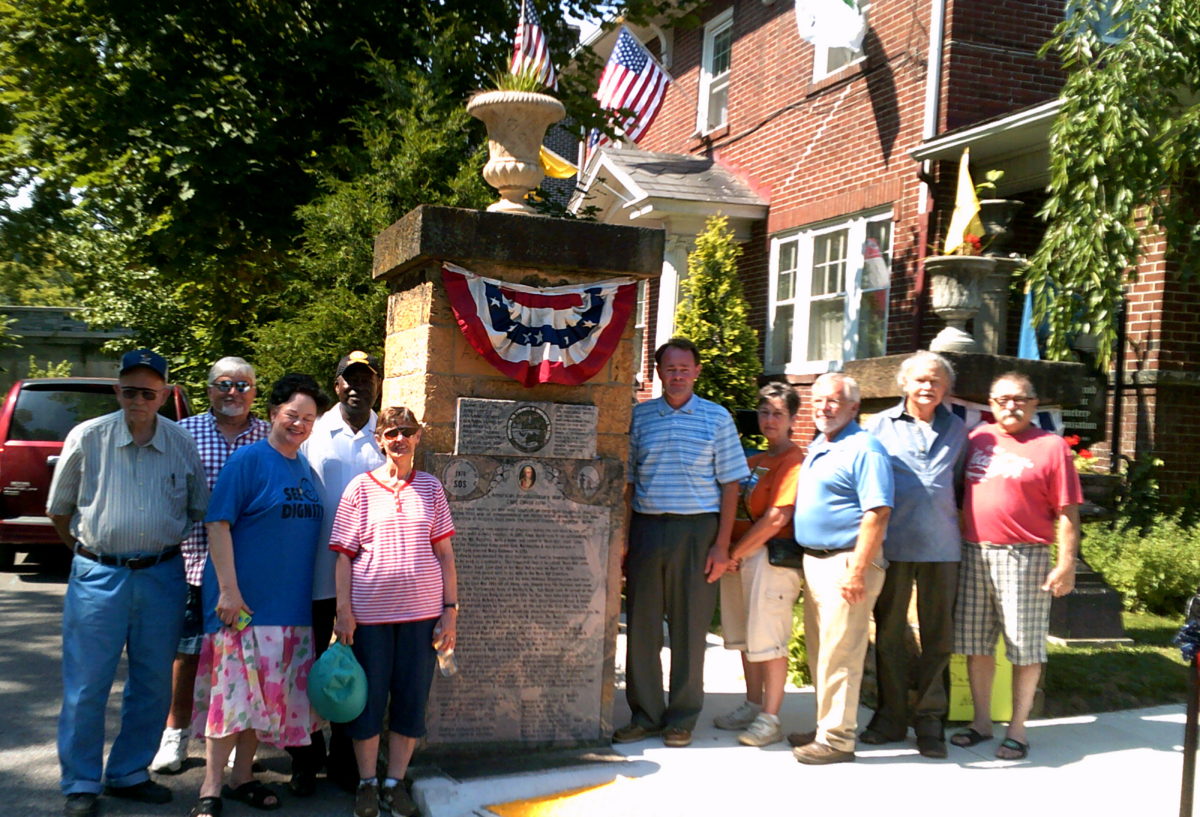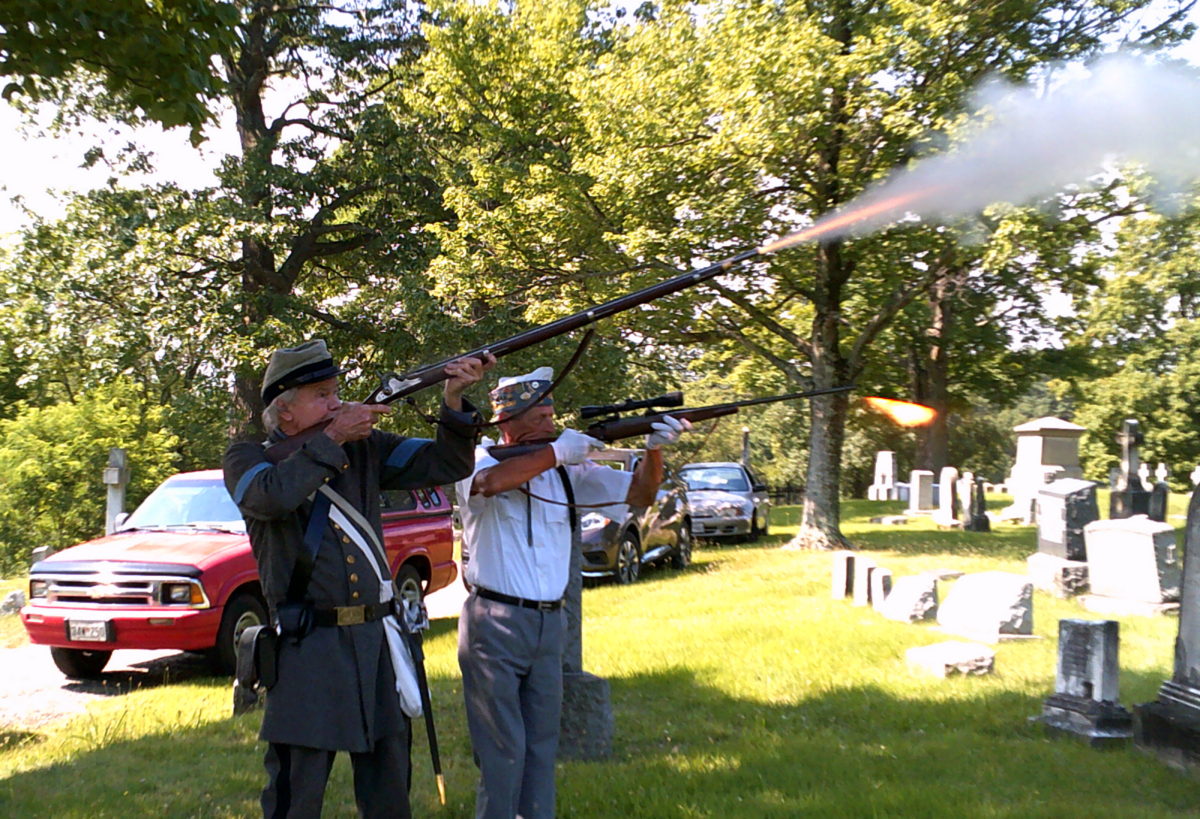 CHCO members Buddy Rowan and Chester Dale Burgess fire a three gun salute for Captain David Lynn.
Captain David Lynn's Grave.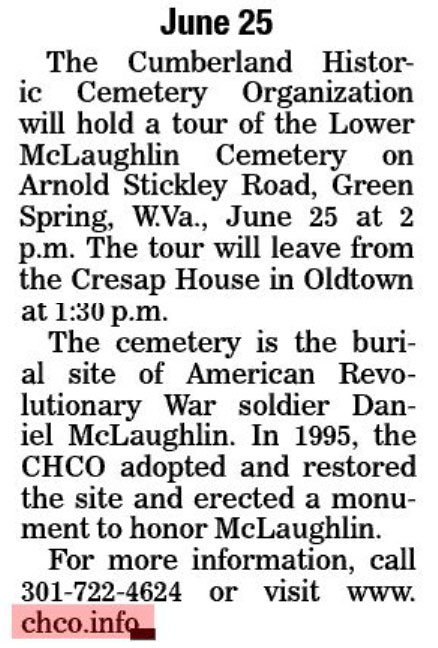 Pictured during the Lower McLaughlin Cemetery visit are members Mark and Lisa Jones at the CHCO monument that was erected in 1995.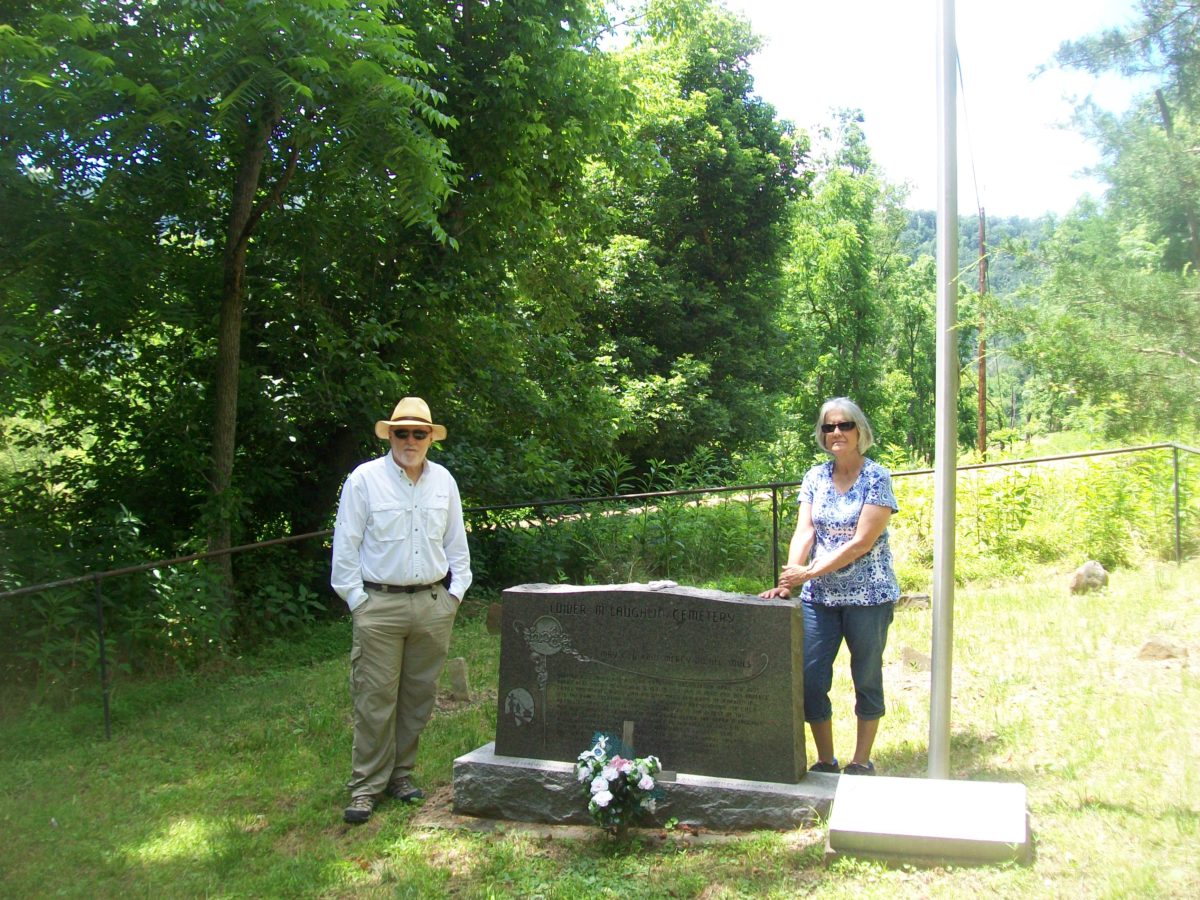 June 15, 2017. Death of CHCO member Ed Malamphy.
May the Lord Jesus Christ have mercy on his soul and all souls. Amen.
Cumberland Times-News
June 8, 2017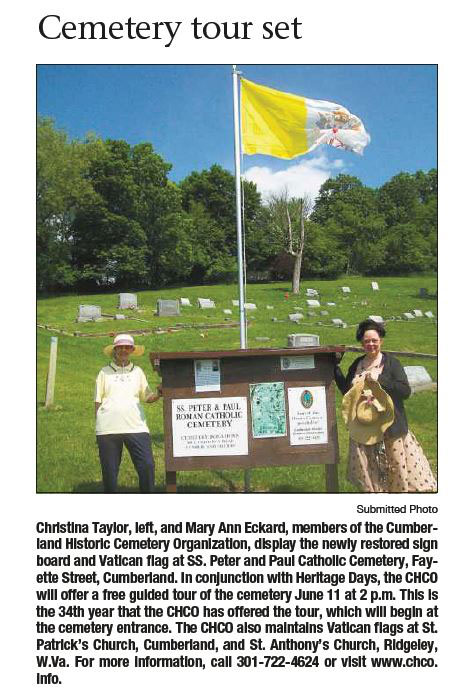 Cumberland Times - News May 29, 2017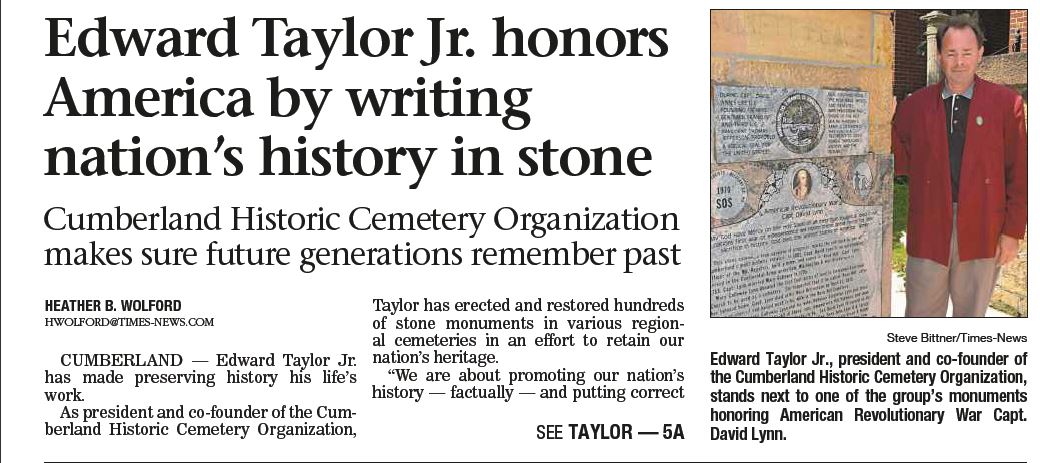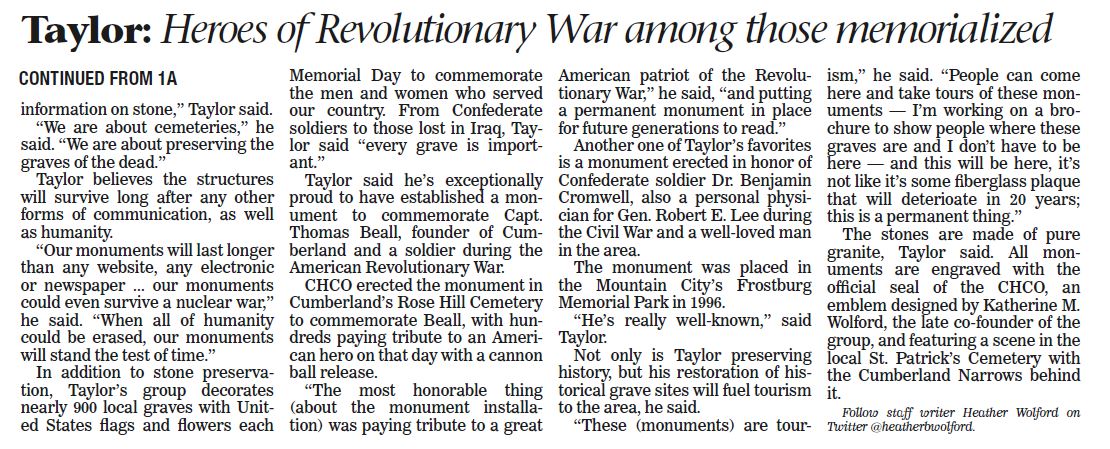 On Sunday May 28, 2017 the CHCO held the annual Memorial Day Service at Sumner Cemetery on Yale St., Cumberland.  Sumner was adopted by CHCO in 1990 and is Allegany County's first black cemetery.  In 1991 CHCO erected Maryland's first monument to black Union Civil War Soldiers.  Guest speakers were Cumberland City Councilman Eugene Frazier and Reverend Alfred Deas.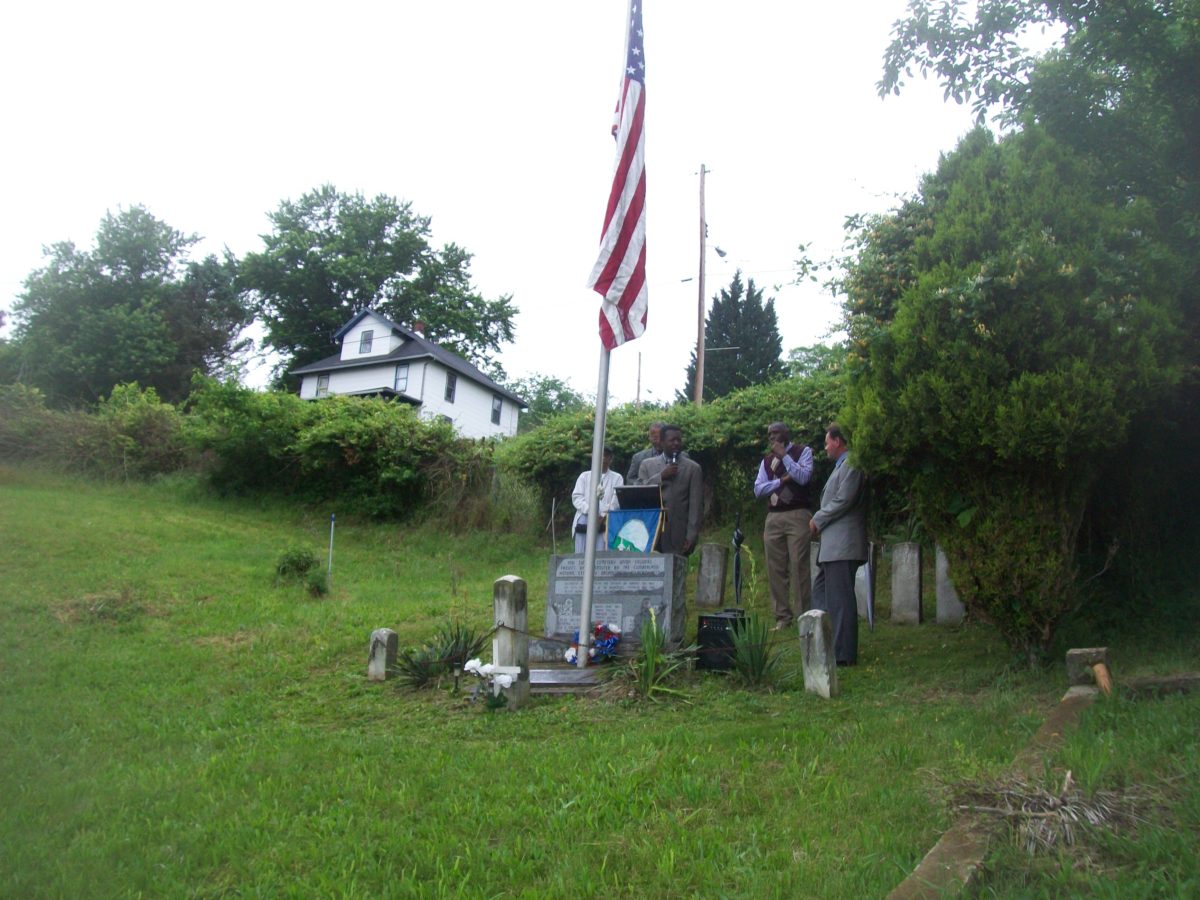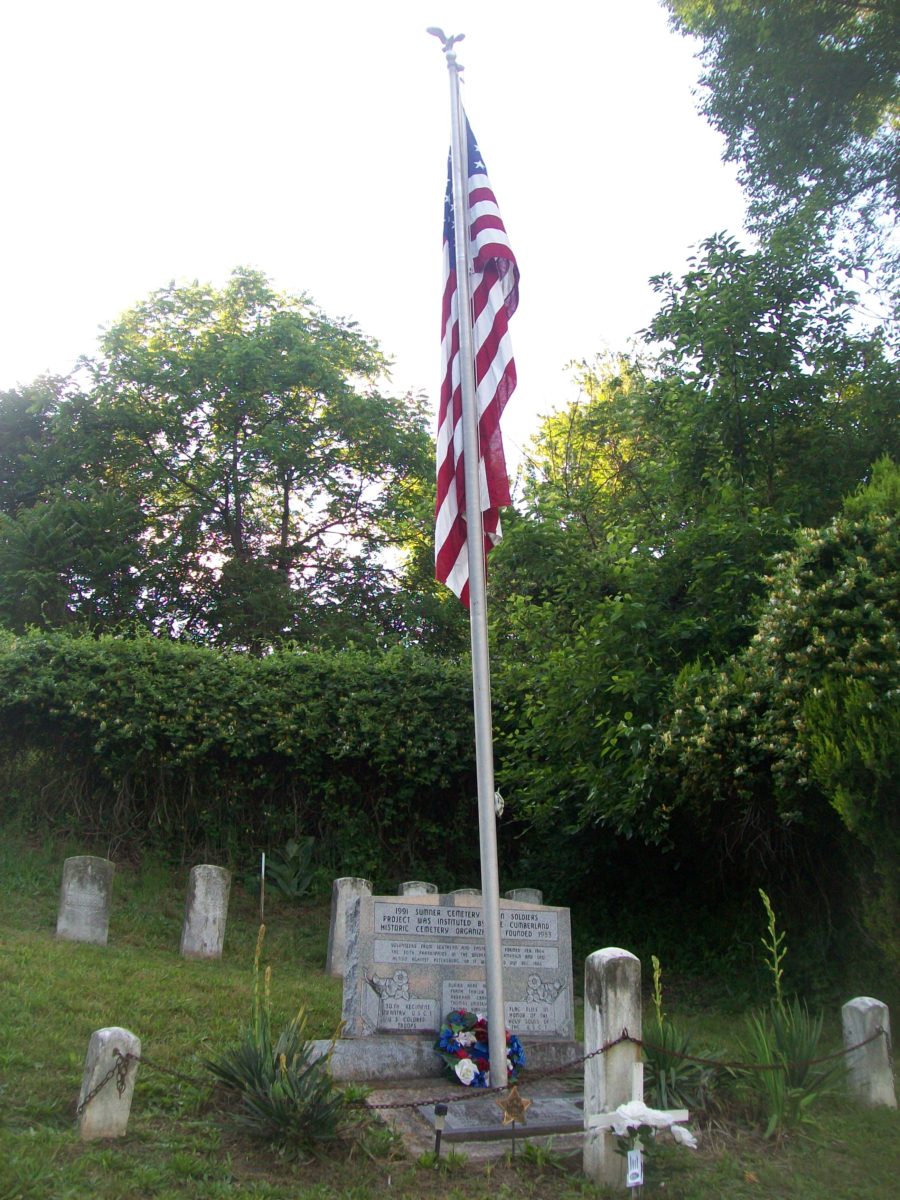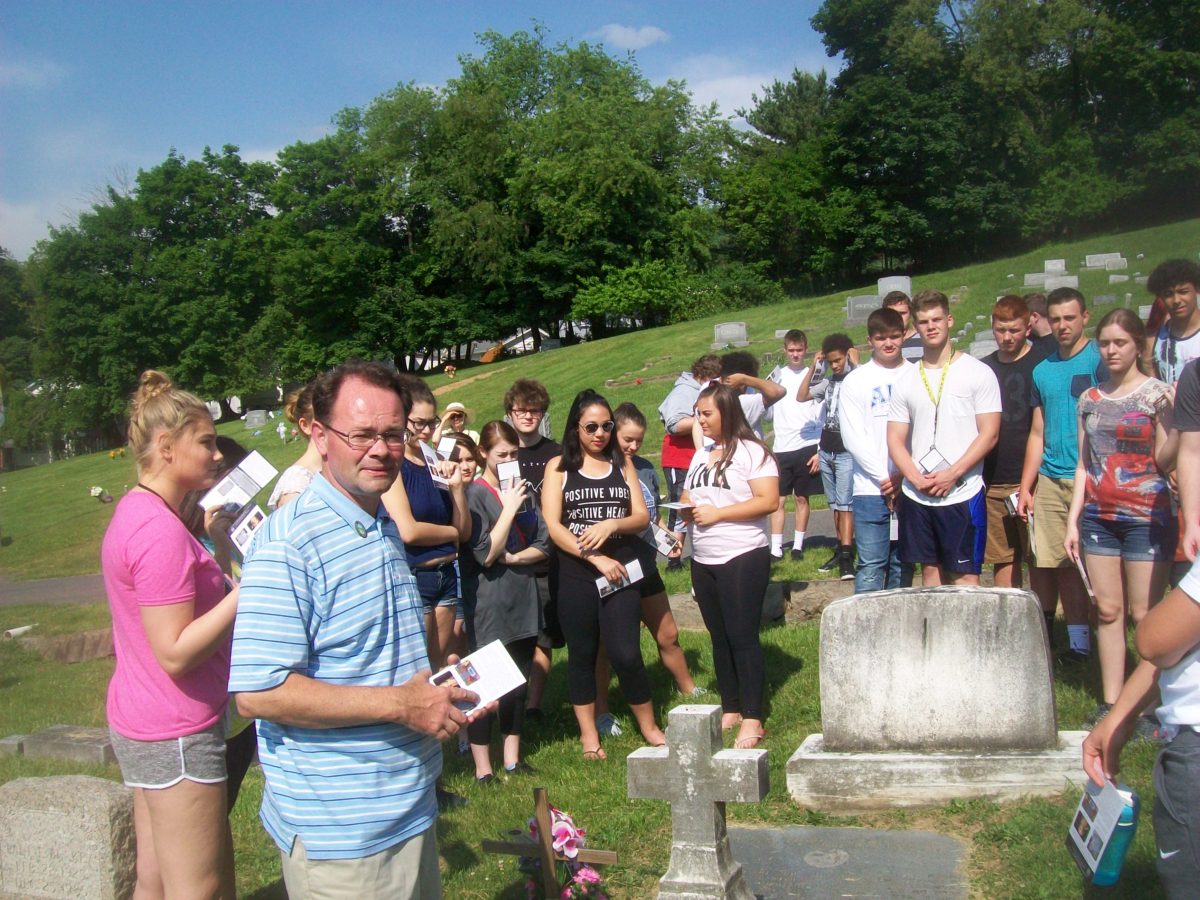 During May, history class students from nearby Allegany High School toured CHCO graves at the SS. Peter & Paul Cemetery, Cumberland.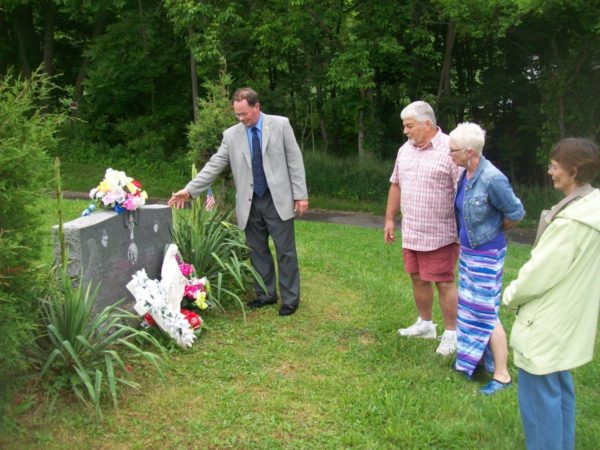 After the Sumner event, members visited CHCO gravesites at the Hughes Burial Site and the St. Patrick Cemetery, Cumberland.  Pictured below;  Christina Taylor and Jim and Denise Shay at the Hughes Burial Plot. The Monument was restored by CHCO in 1995. 
Ed Taylor points out the Angellatta monument at St. Patrick Cemetery.  The monument was erected by CHCO in 2002.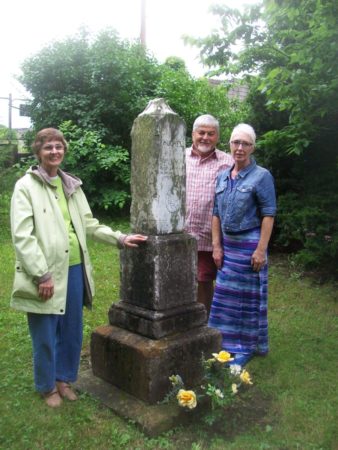 During May 2017, CHCO members decorated hundreds of CHCO designated and protected gravesites.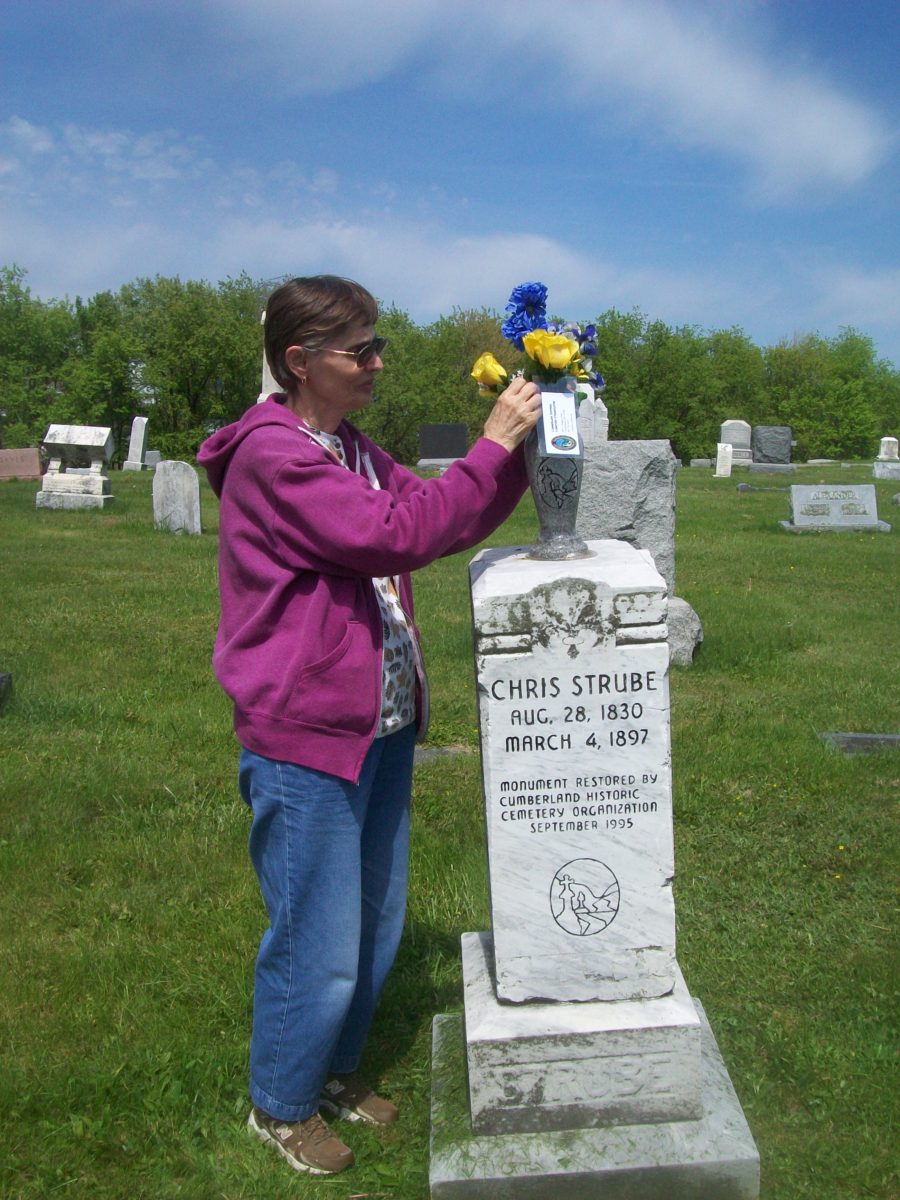 Member Christina Taylor decorates the grave of Chris Strube in Frostburg Memorial Park. The monument was restored by CHCO in 1995.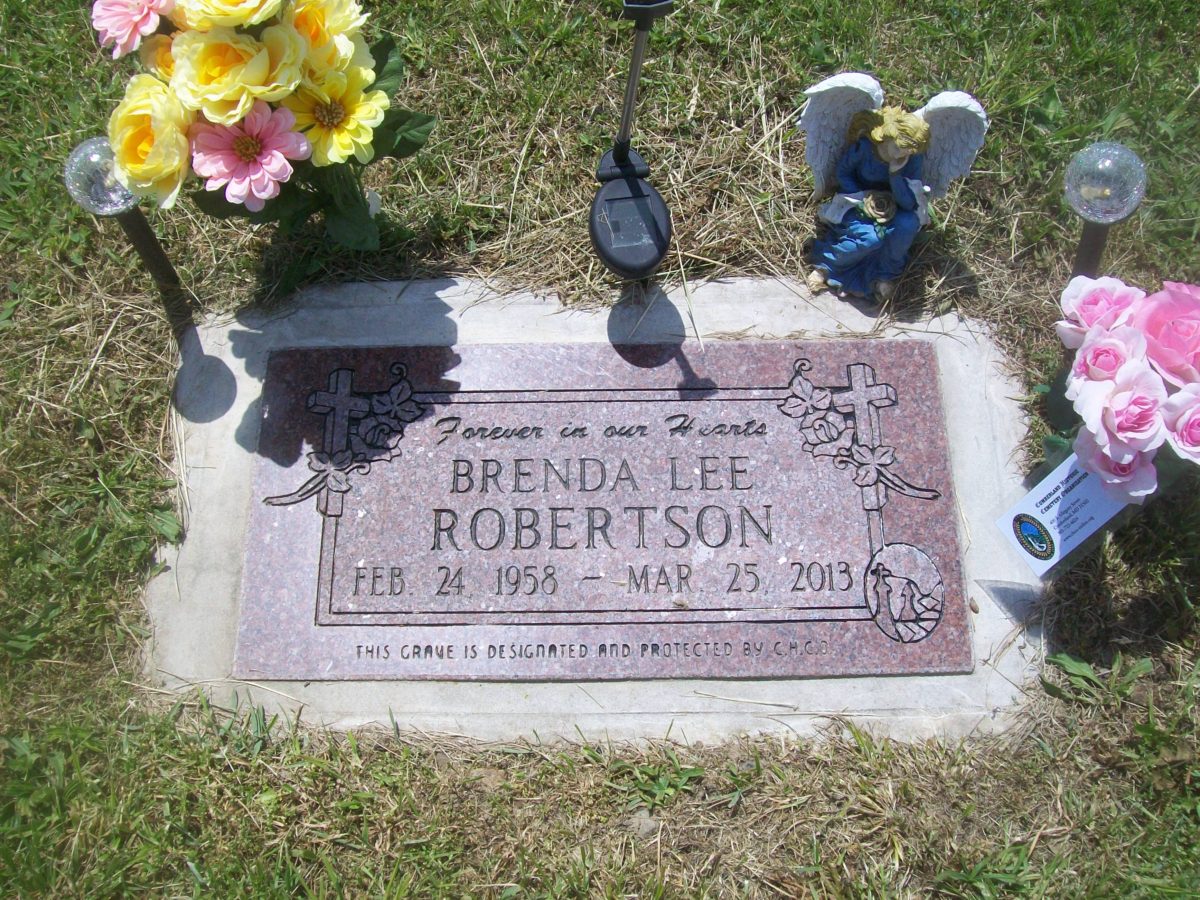 Grave of Brenda Robertson in Laurel Hill Cemetery near Barton, MD.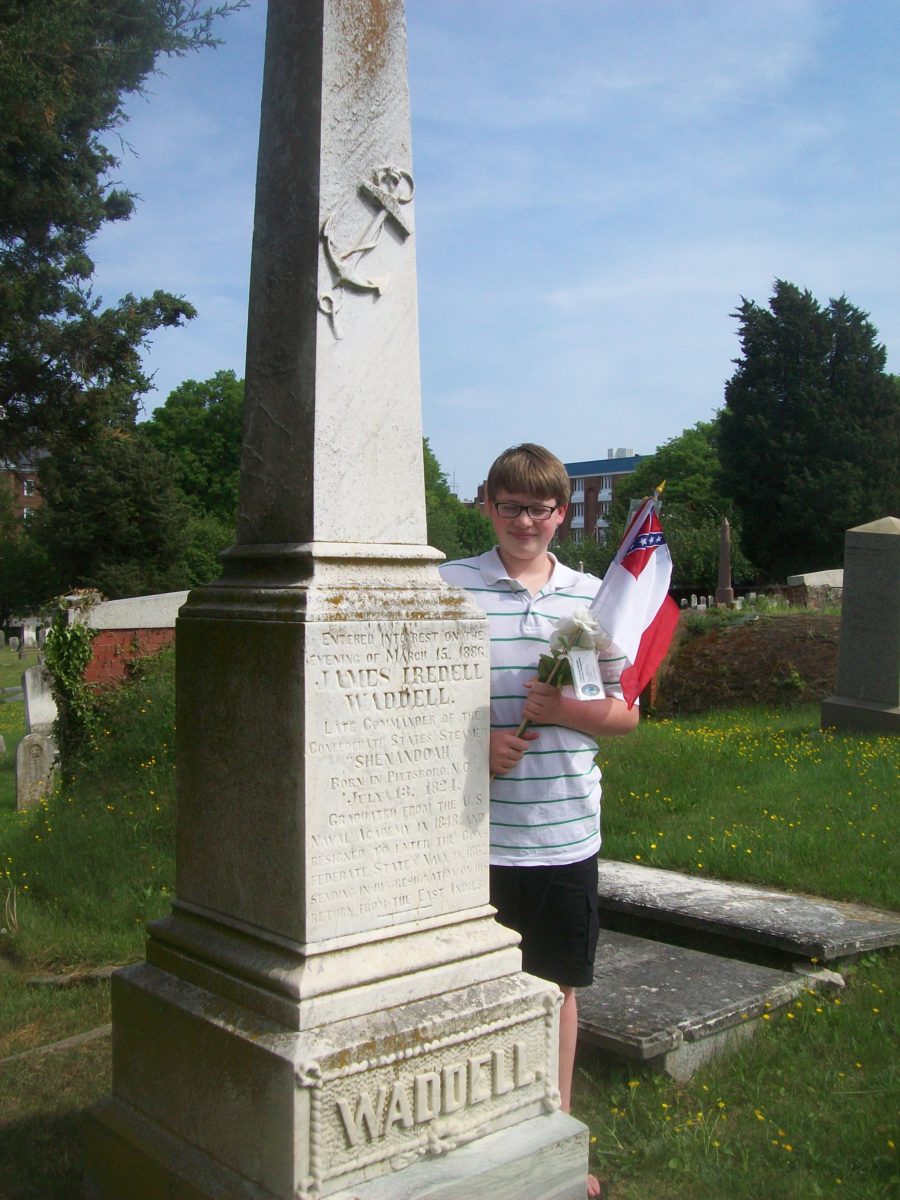 Simon places a flag at Confederate Commander James Waddell's grave at St. Anne's Cemetery.  The St. Anne's Episcopal Church told the Sons of Confederate Veterans that they could not hold a memorial service at this site.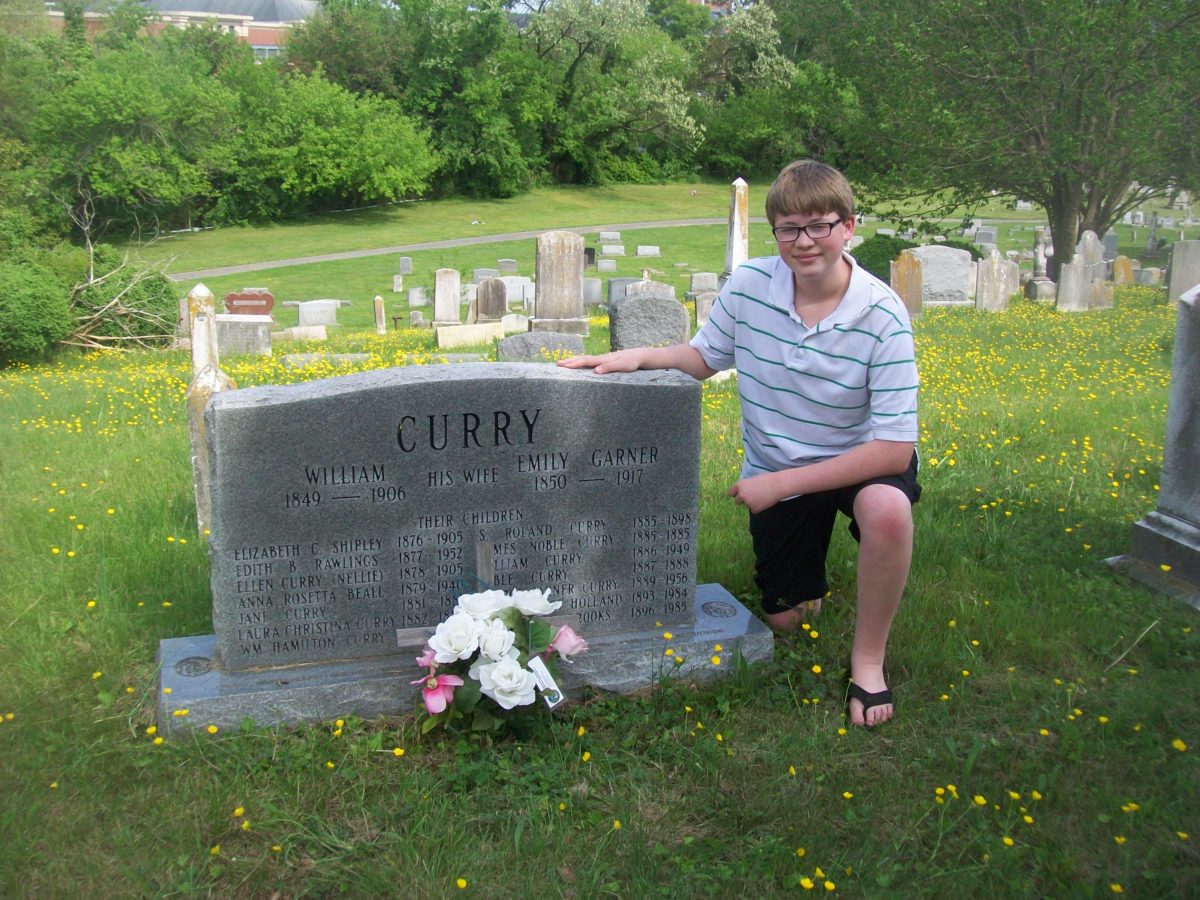 Simon Taylor decorates the Curry Monument in the St. Anne's Cemetery in Annapolis, MD. The monument was erected by CHCO in 1996.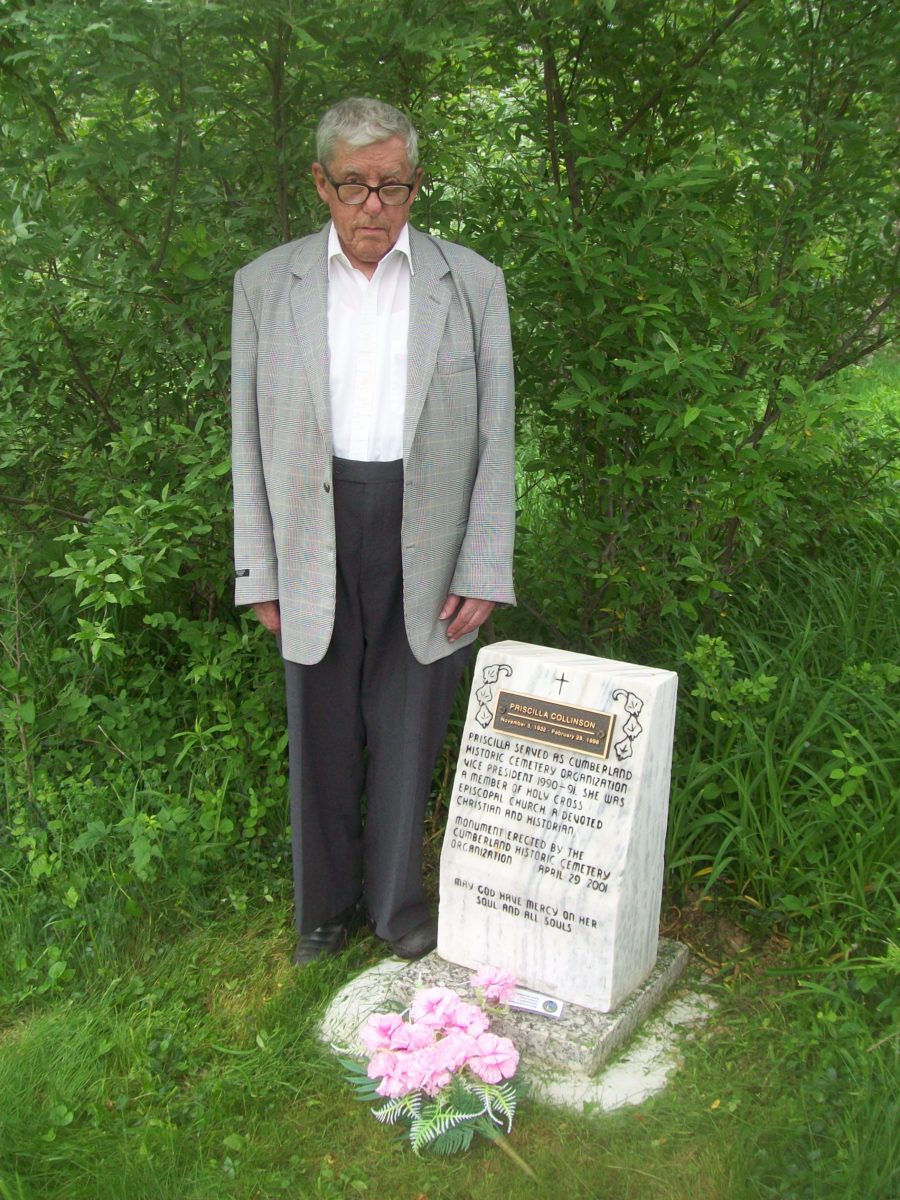 Member Dr. Paul Snow decorates the CHCO monument for former CHCO Vice President Priscilla Collinson.  The monument was moved to the Hinkle - Snow Cemetery east of Cumberland in 2016 after the Holy Cross Episcopal Church closed.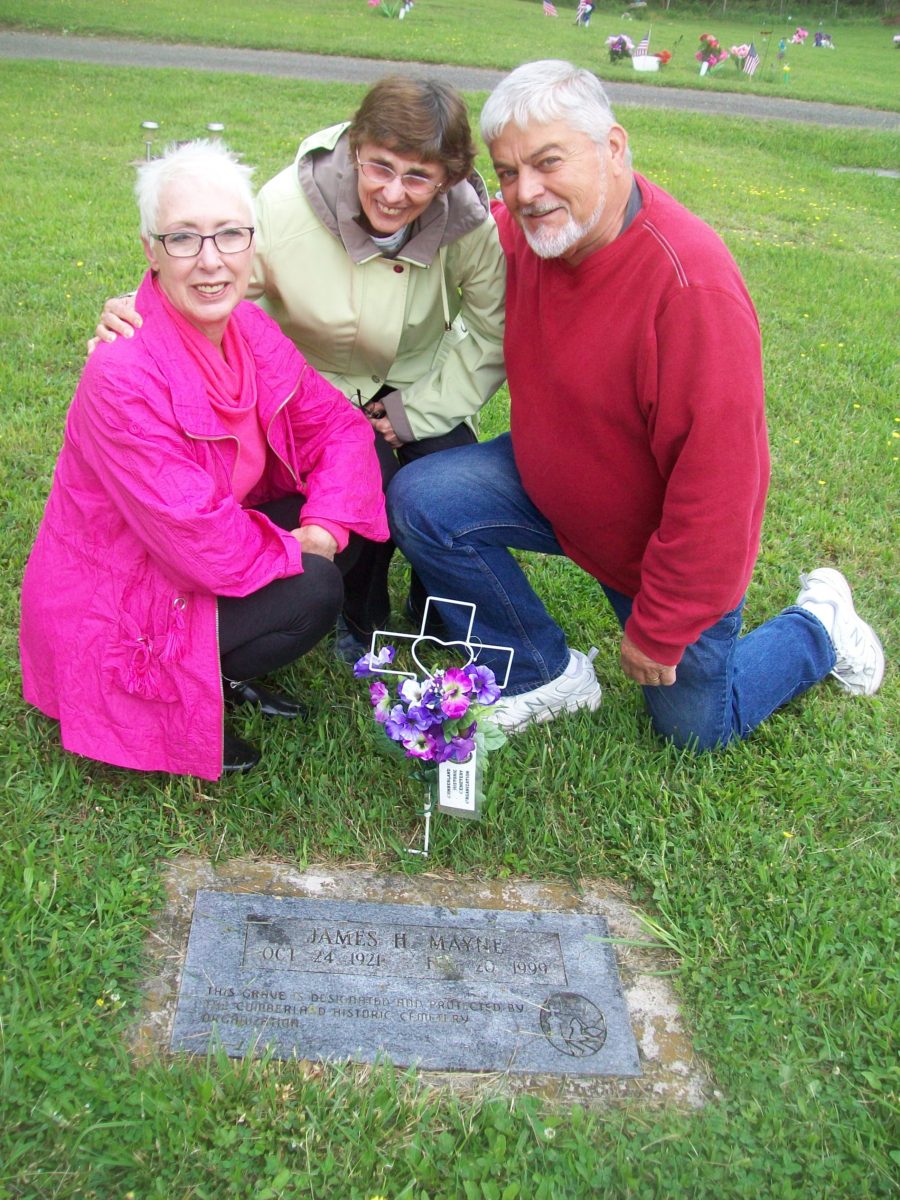 Members Denise Shay, Christina Taylor, and Jim Shay decorate the CHCO monument for James Mayne who died in 1999.  The monument is in the Aurora Cemetery in Aurora, WV.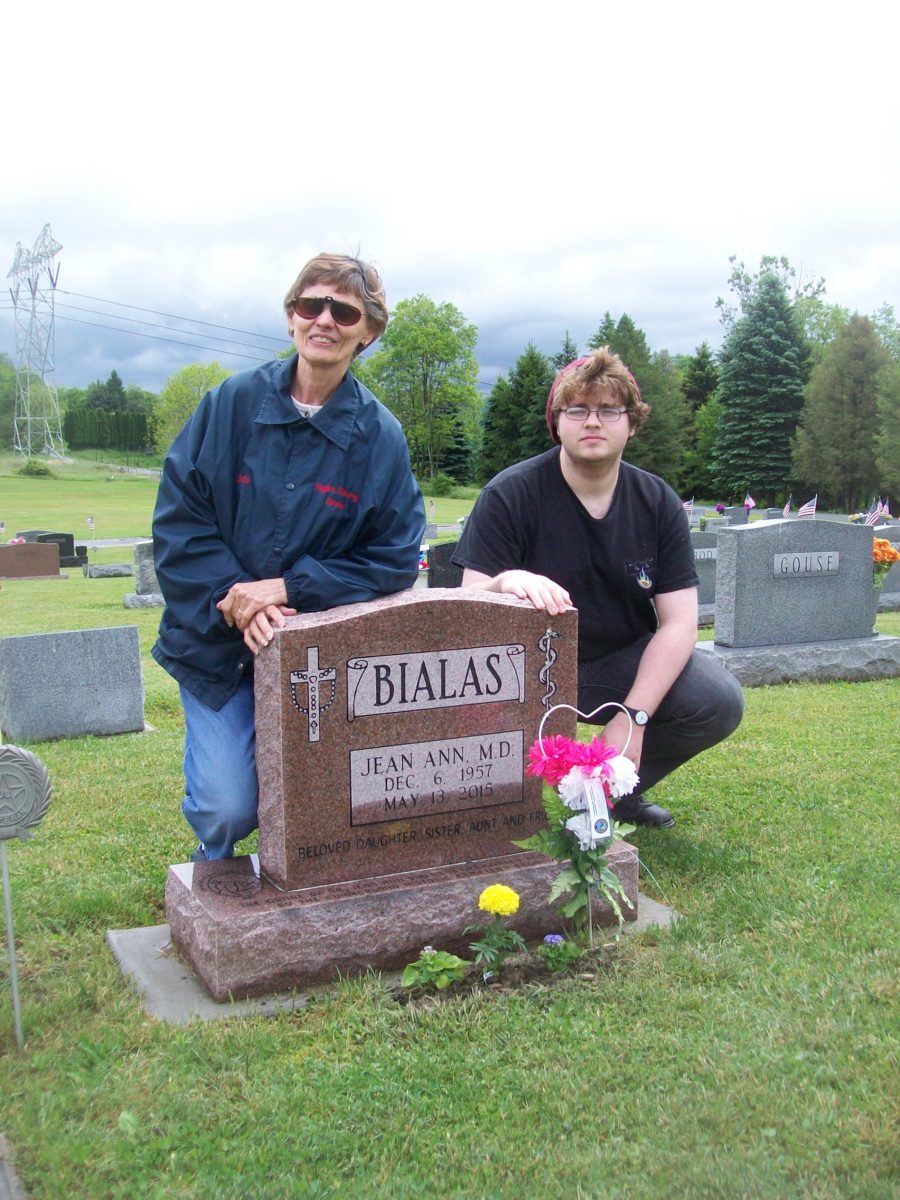 Members Christina Taylor and Leland Taylor decorate the grave of deceased member Dr. Jean Bialas in the St. Bartholomew Cemetery in Wilmore, PA.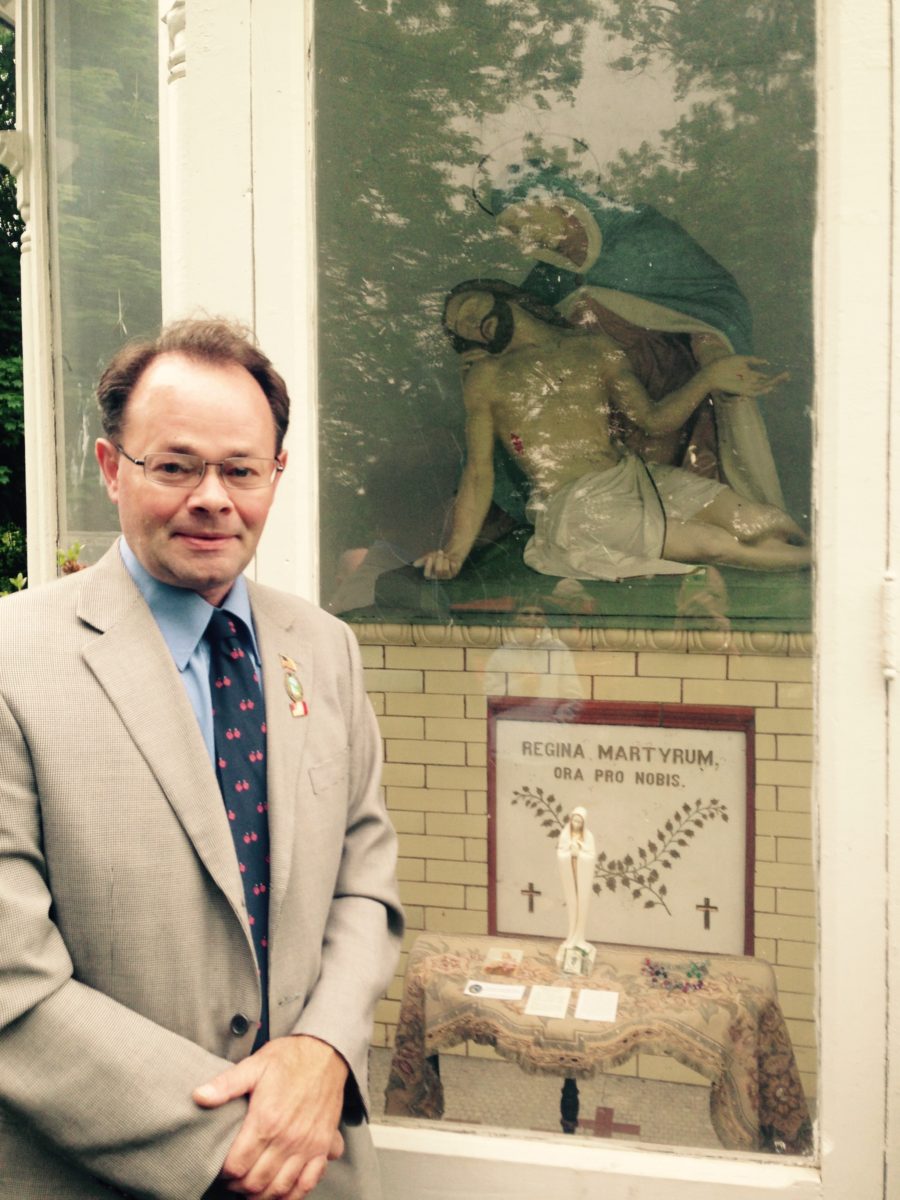 May 2017 the CHCO is once again maintaining the Shrine of the Pieta and keeping prayer cards there.  The Shrine is located in the SS. Peter & Paul Cemetery on Fayette Street, Cumberland.  Pictured is CHCO President Ed Taylor, Jr.
On Saturday May 6, 2017 CHCO members traveled to Moorefield, WV to the Sons of Confederate Veterans McNeills Rangers flag raising event.  A large Confederate battle flag was erected over the town of Moorefield.  The CHCO was issued a special "thank you" for their gift towards the historic event.  Pictured below are:  President Ed Taylor;  H.K. Edgerton and Taylor; CHCO member Mary Ann Eckard; Taylor and Commander David Judy.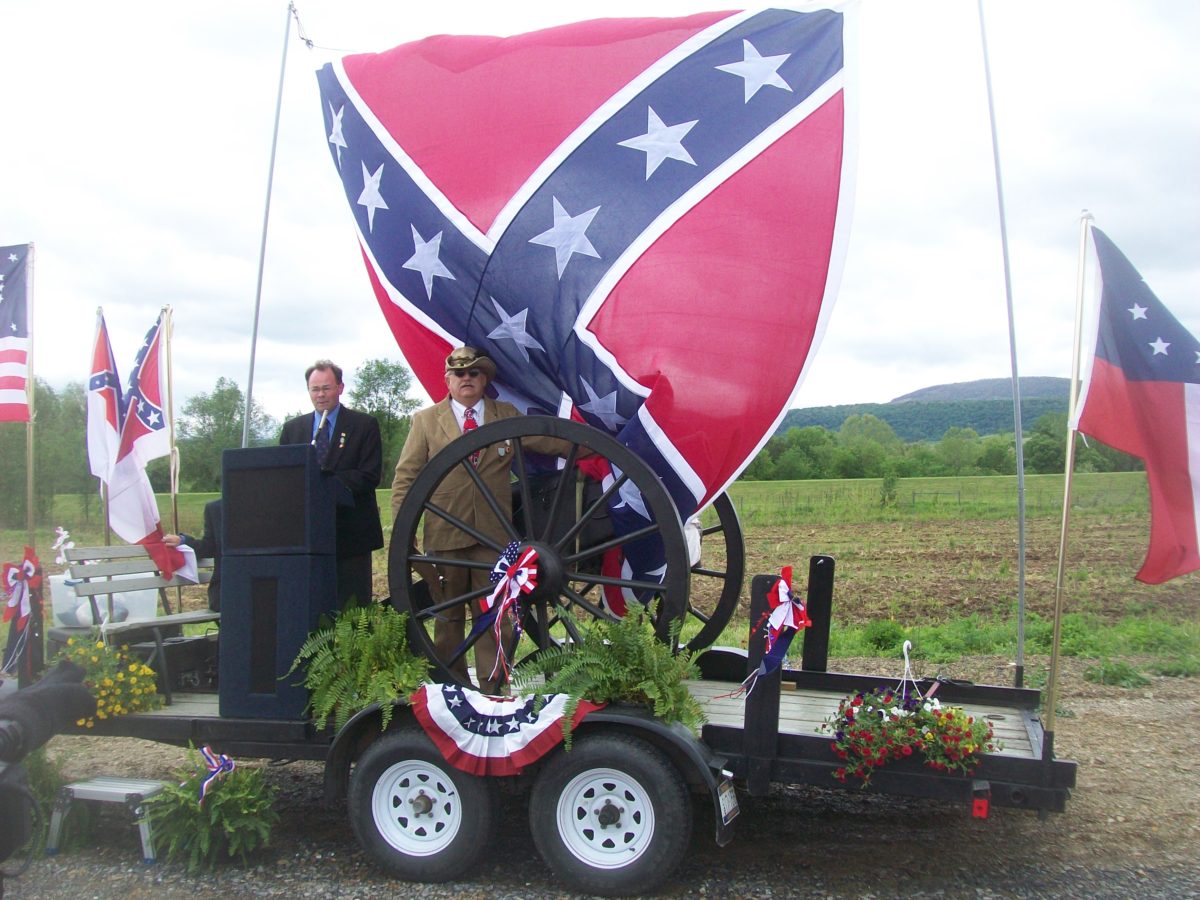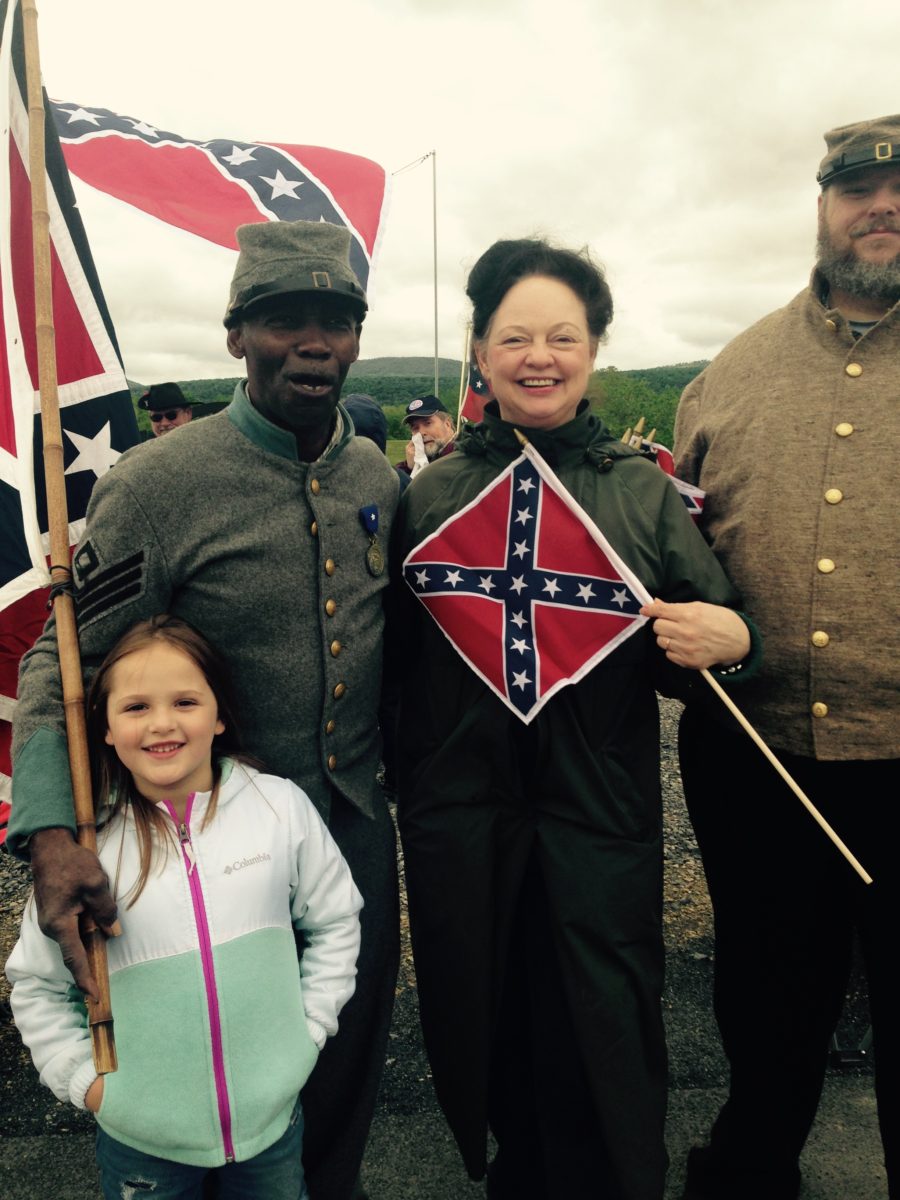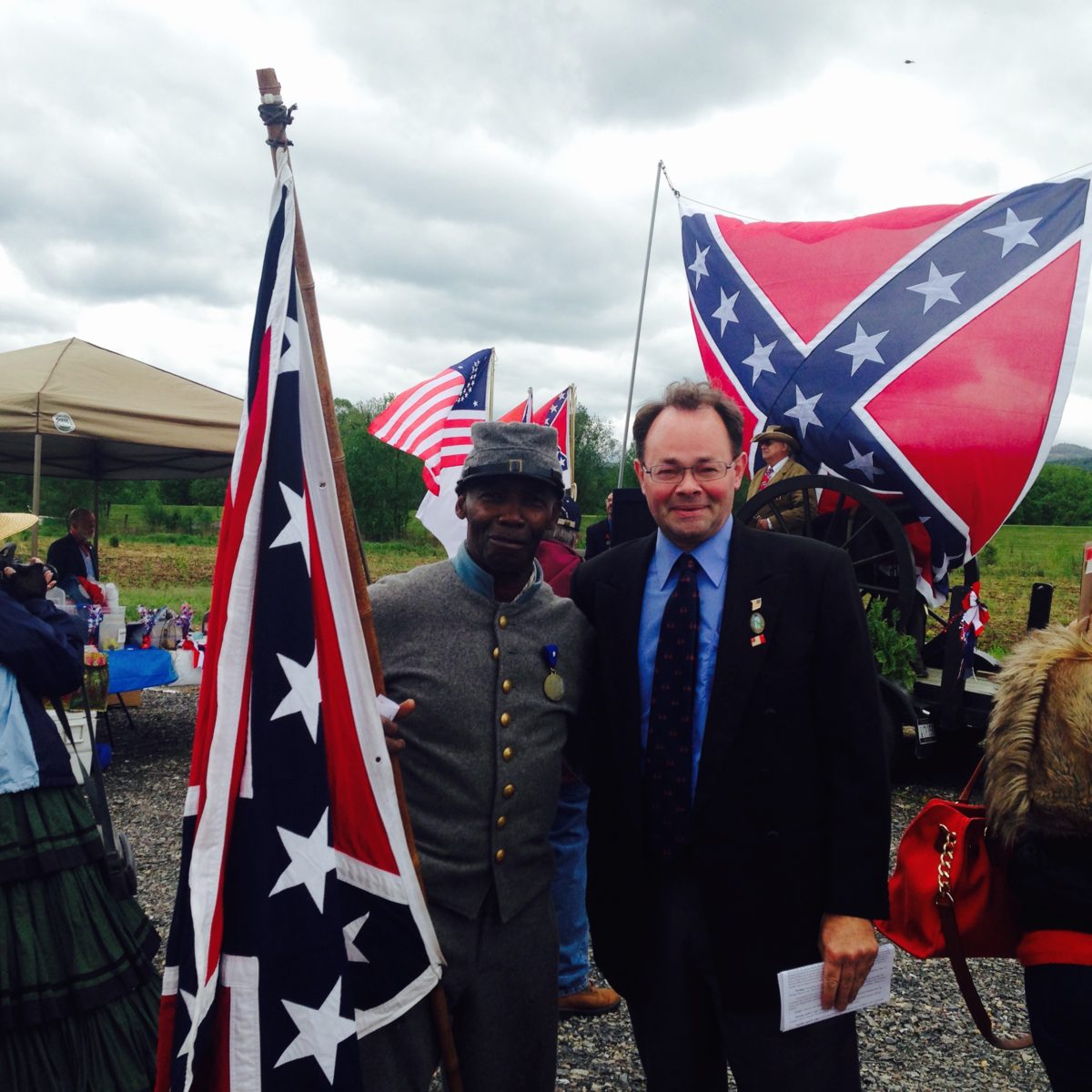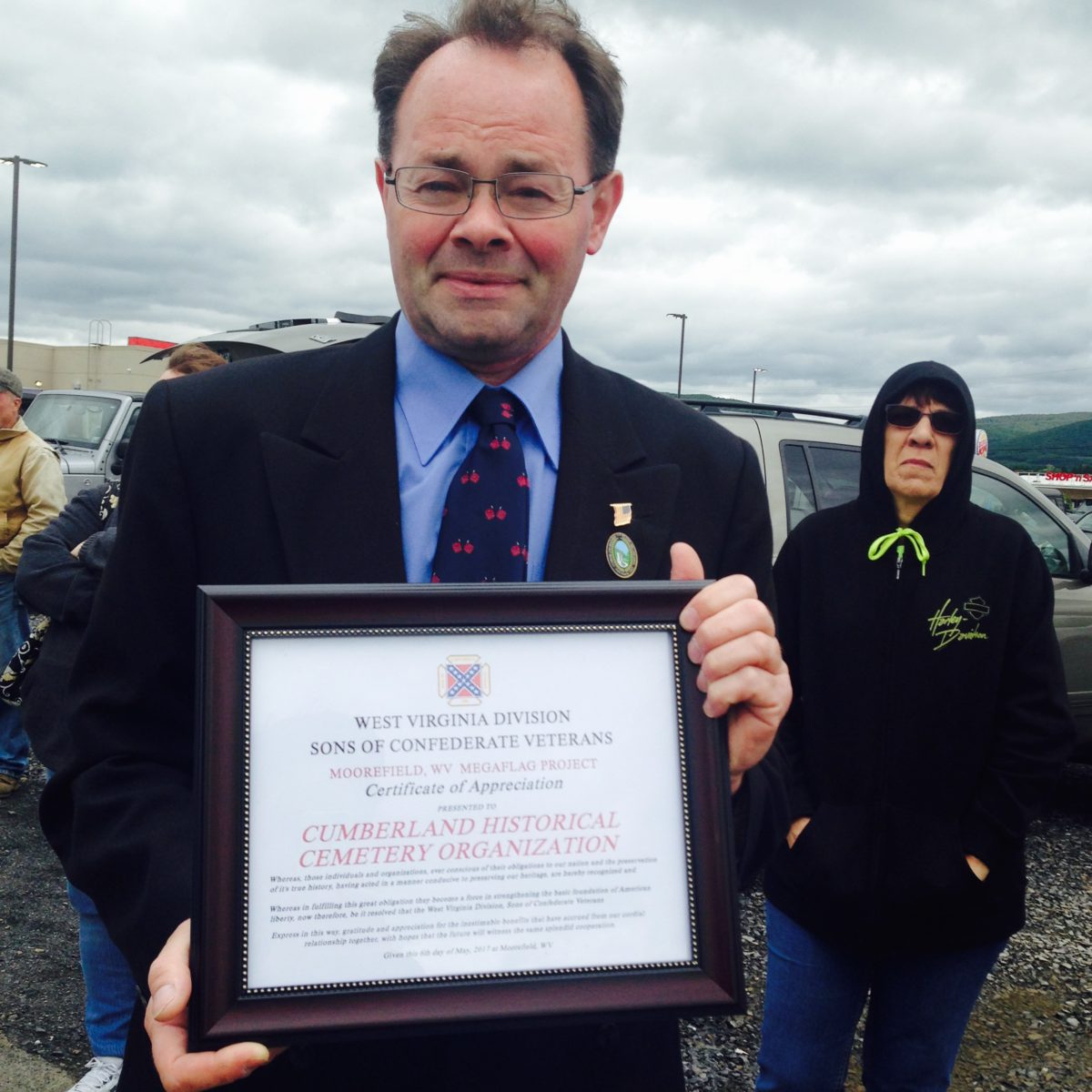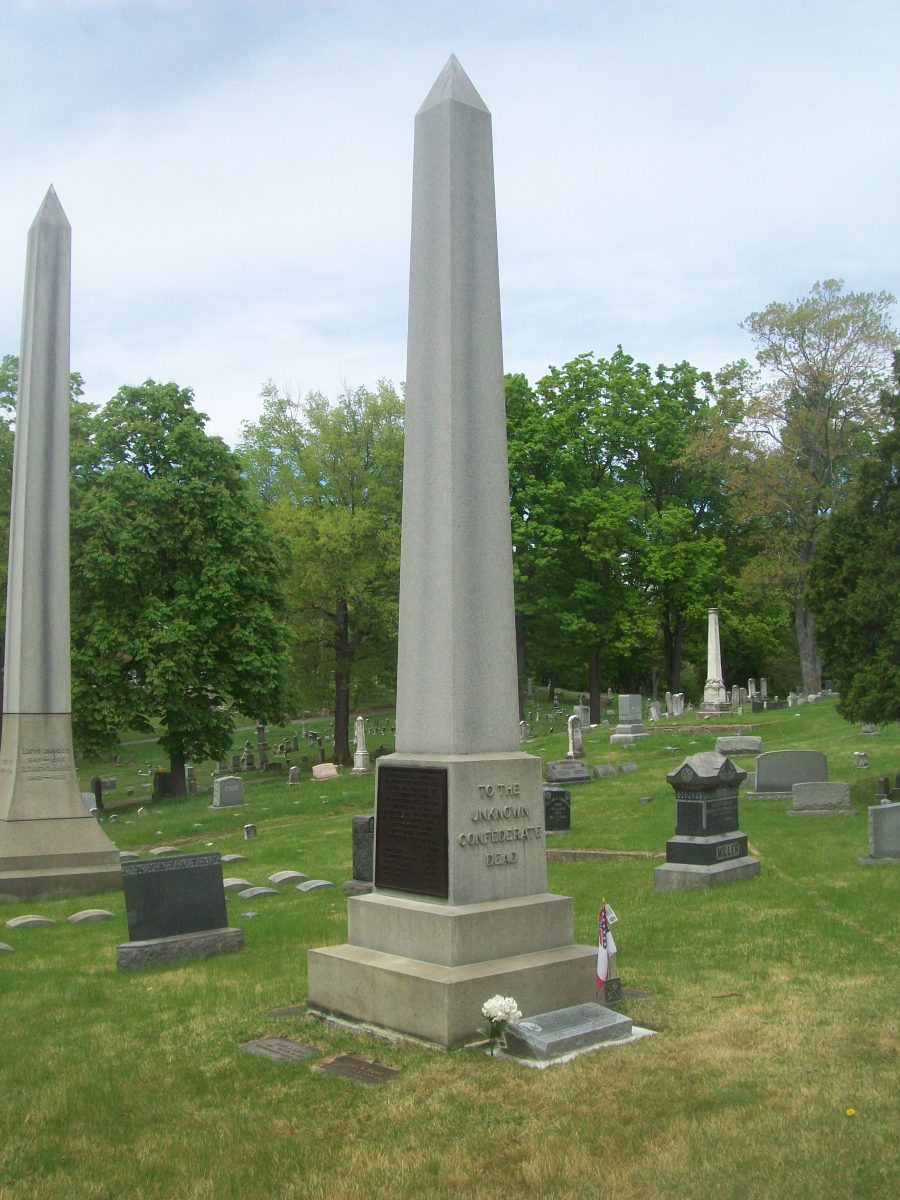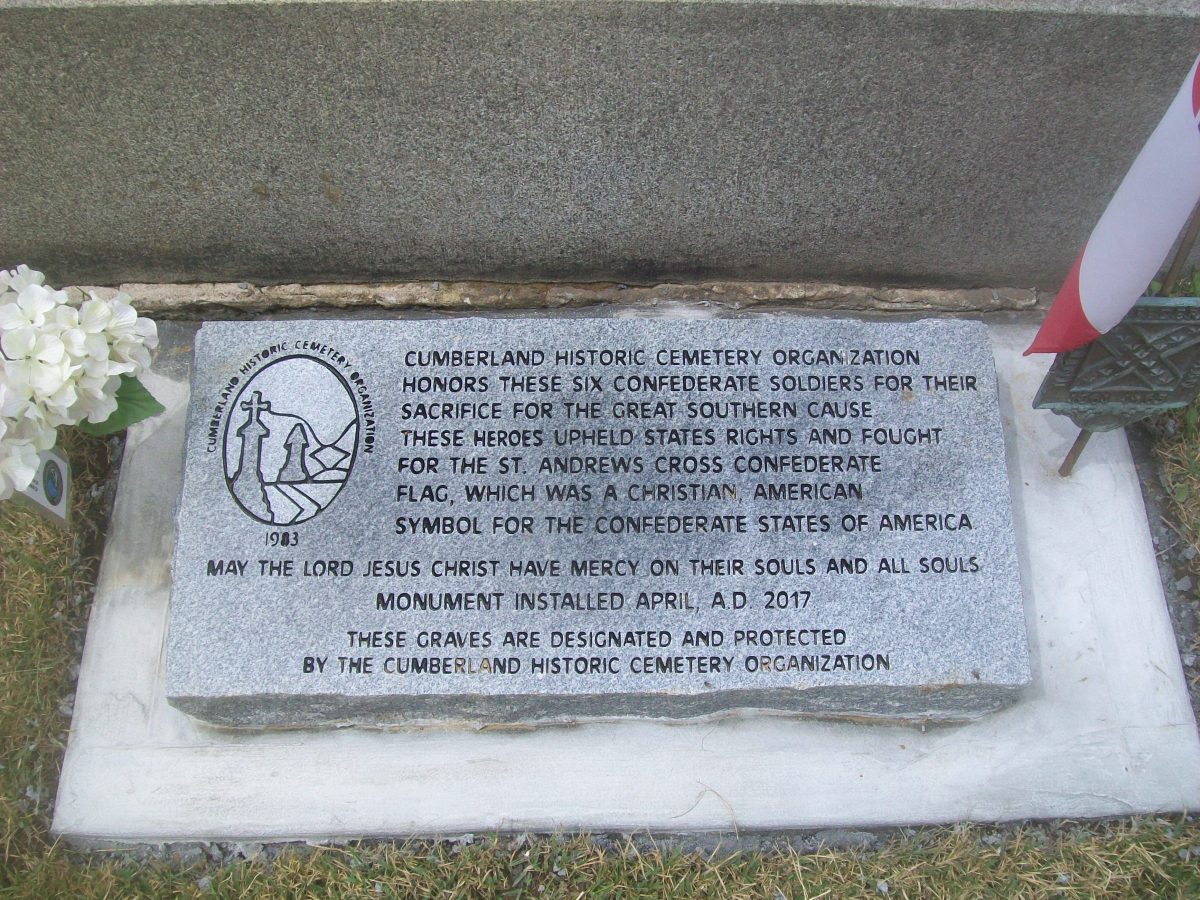 As part of Confederate History Month in April 2017, the CHCO installed a Confederate Hero's Monument at six soldier's graves in Rose Hill Cemetery on Fayette Street, Cumberland, MD. Pictured above is the main Confederate Monument erected in 1912 by the Ladies of Cumberland. Pictured at the base of the monument is the new plaque that the Cumberland Historic Cemetery Organization recently installed.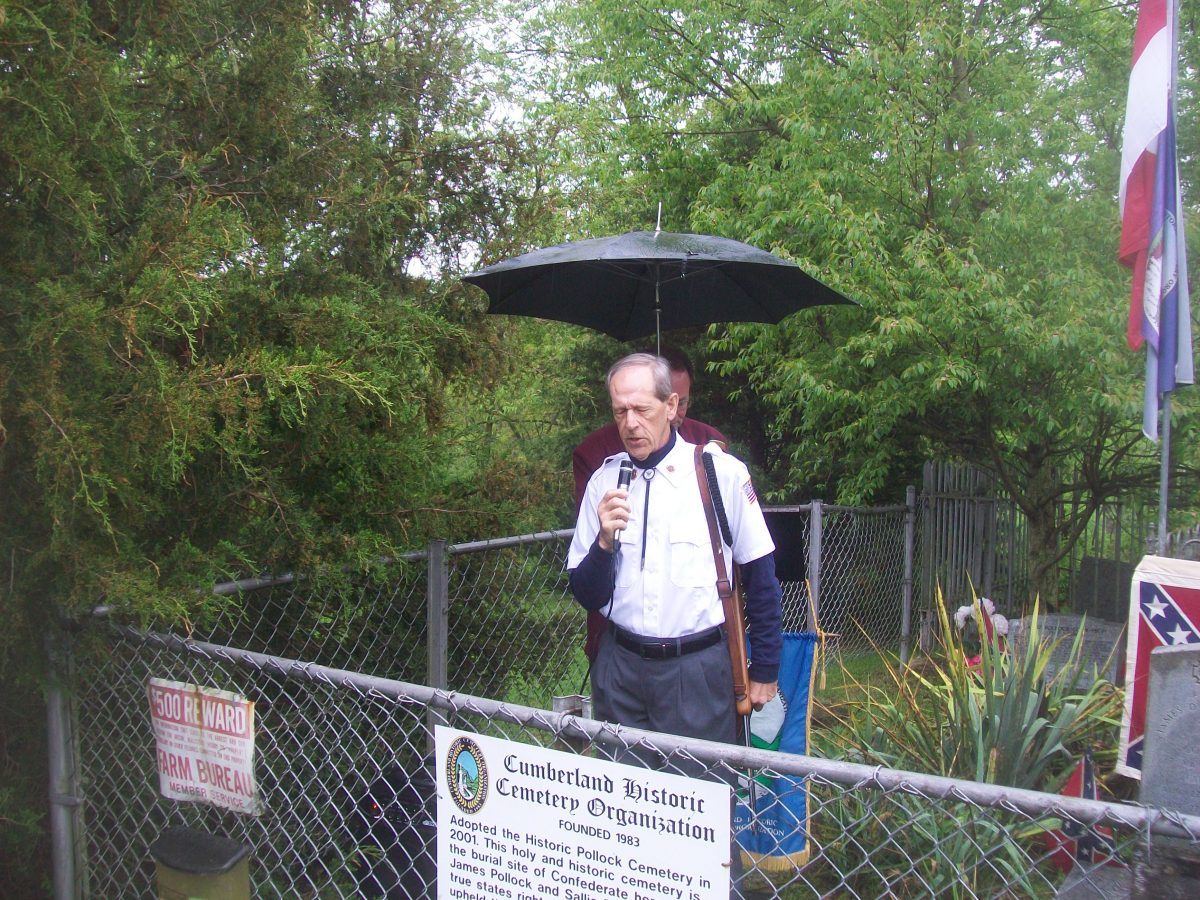 On Saturday April 22, 2017, CHCO member Dale Burgess gives an opening prayer during a Confederate History Month Ceremony at the CHCO Historic Pollock Cemetery. The Pollock Cemetery is located south of Cumberland in the Mexico Farms area.
CHCO President Ed Taylor, Jr. welcomes everyone.
Pictured below: Allegany County Tourism Director, Barb Buehl speaks to the group.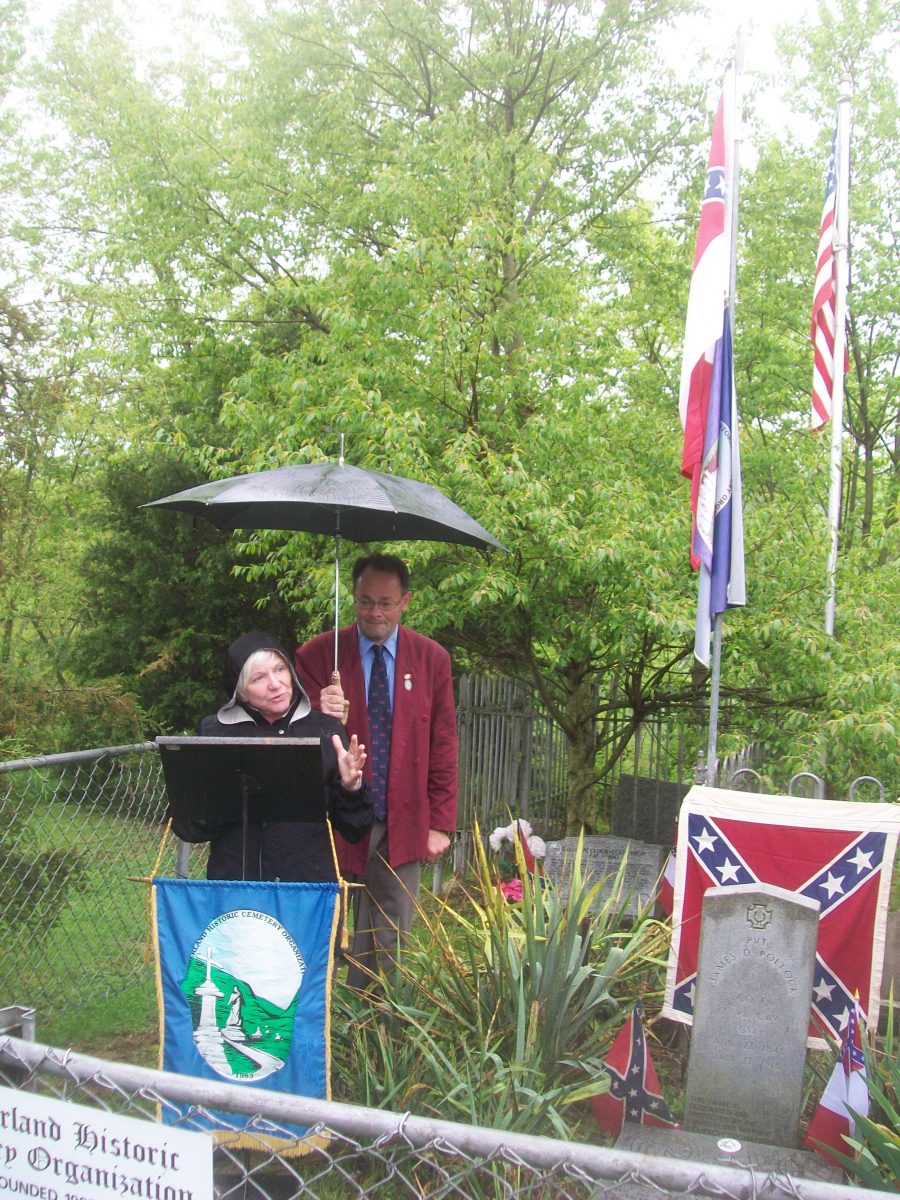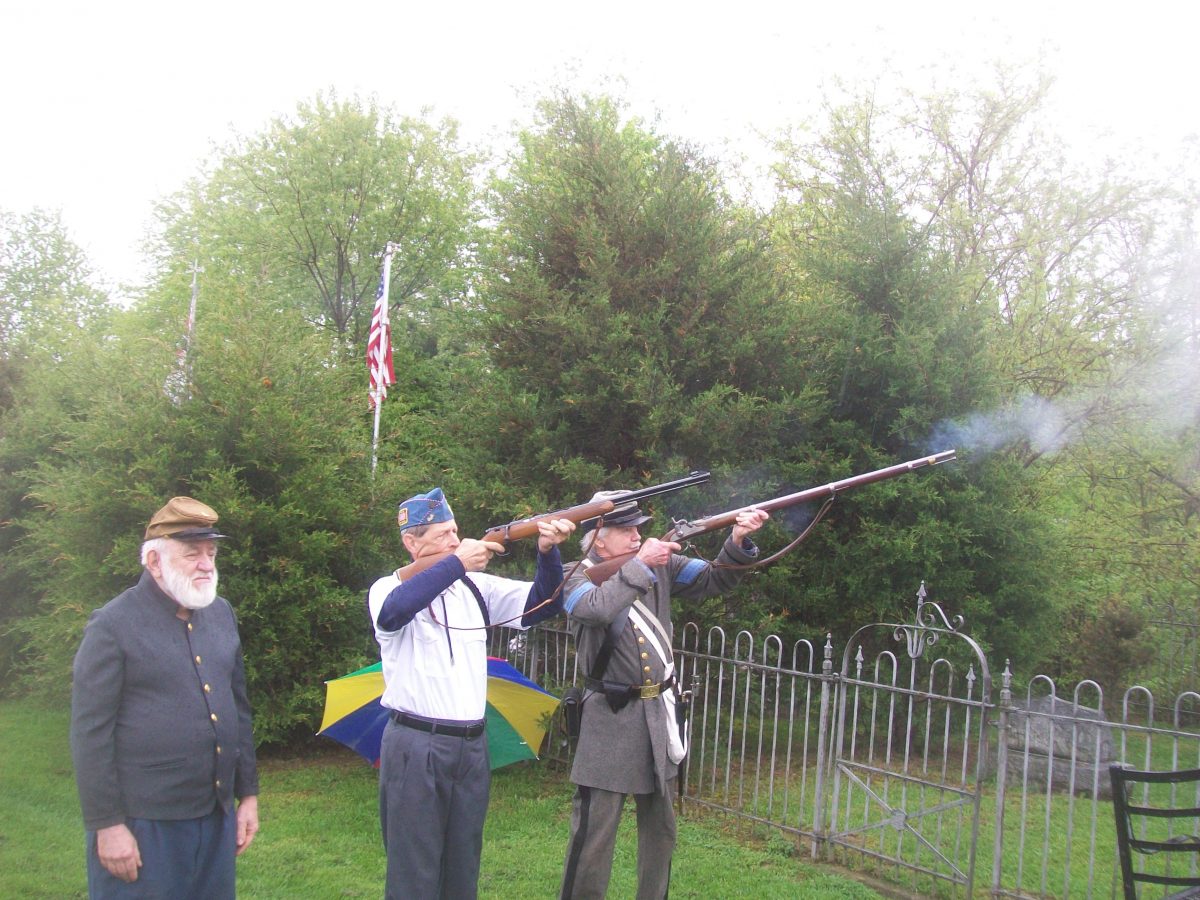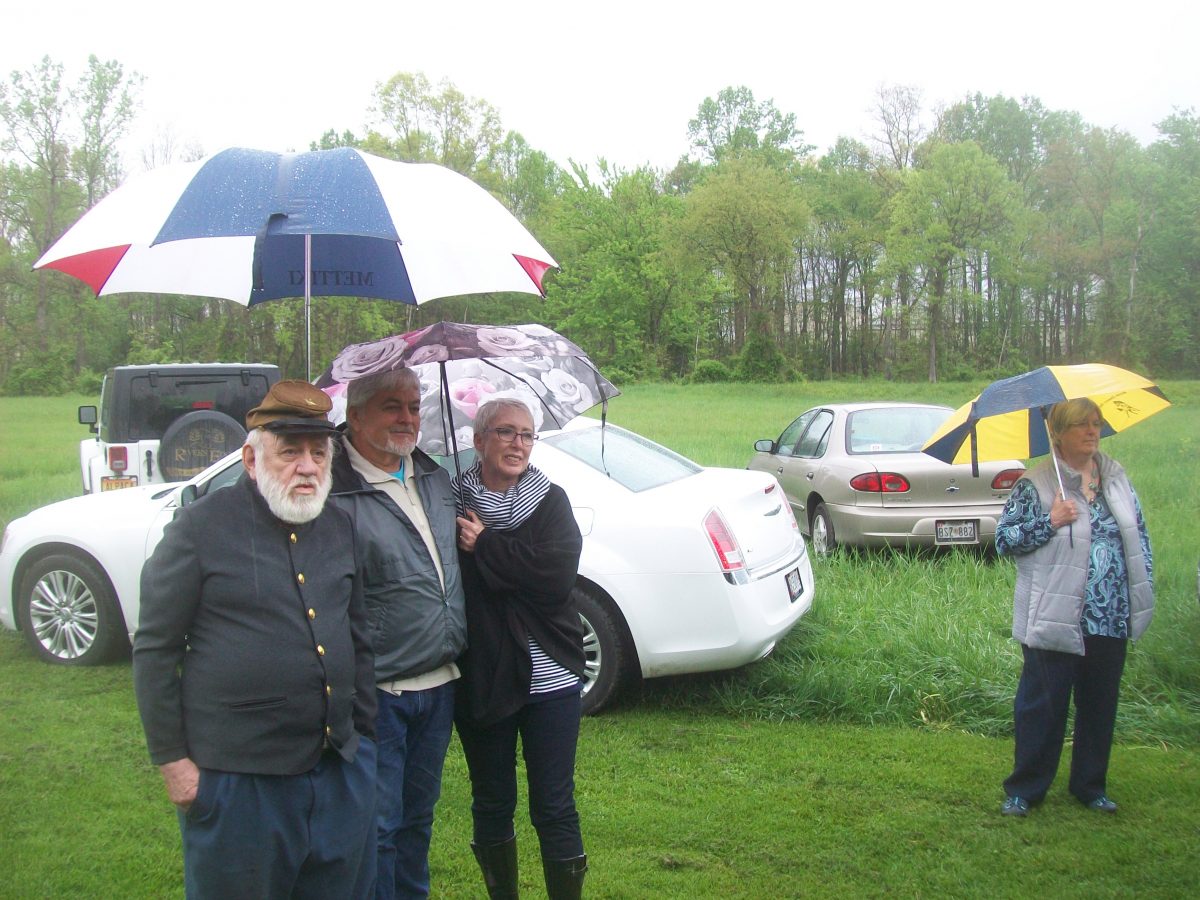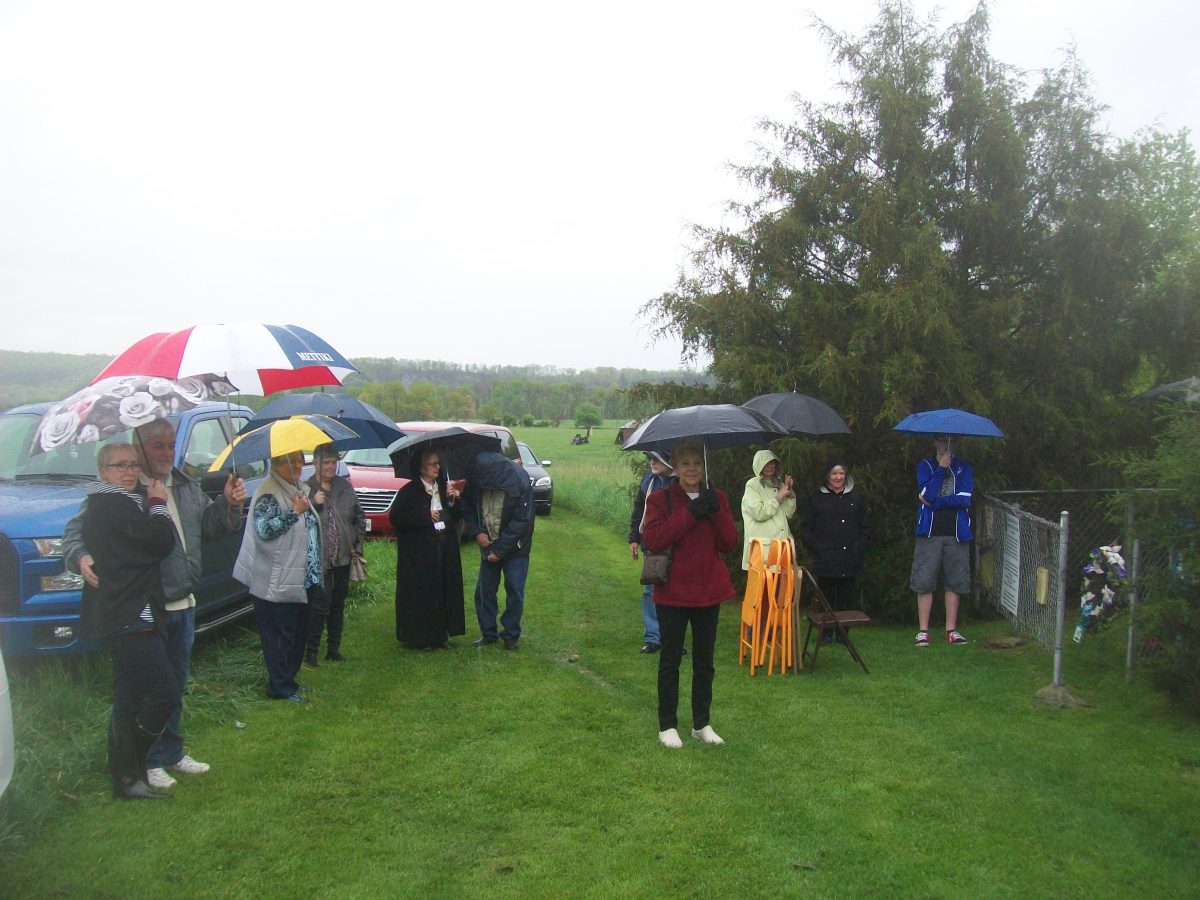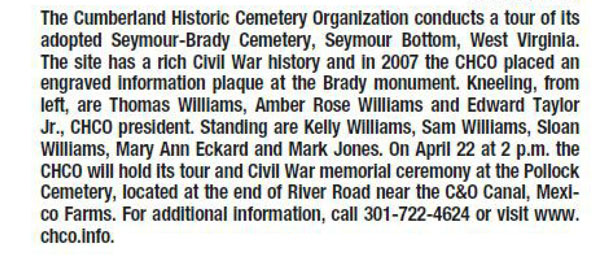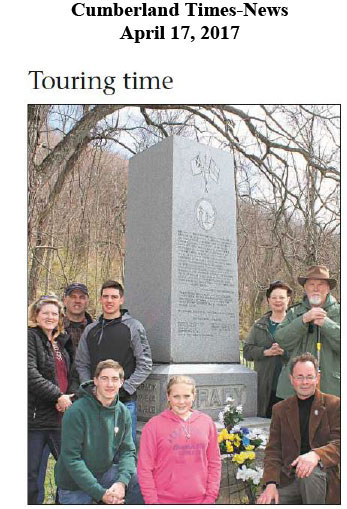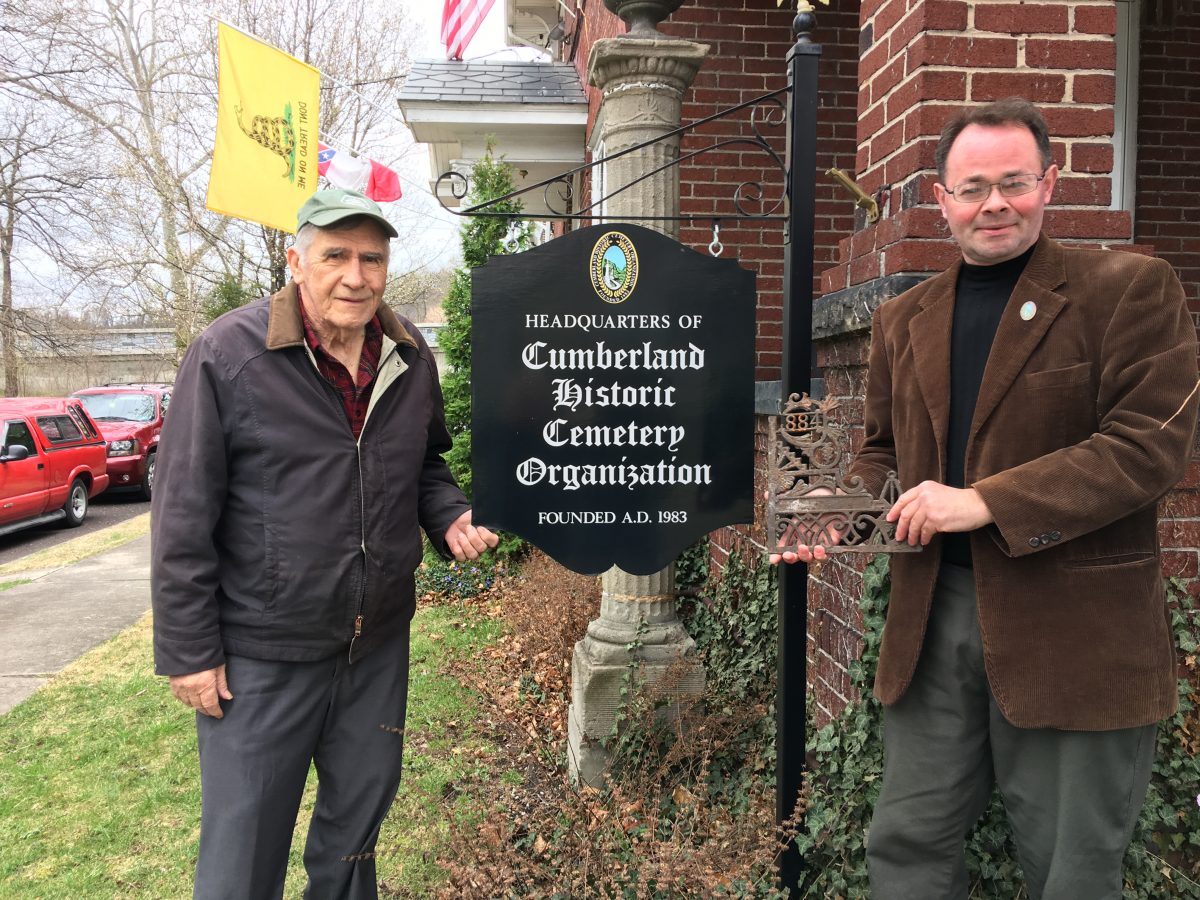 Renick Williams and CHCO President Ed Taylor, Jr. at the CHCO Headquarters before the Seymour - Brady Cemetery Tour. Taylor presents Williams with some iron works from the Brady house fireplace. Williams is a descendant of the Seymour family.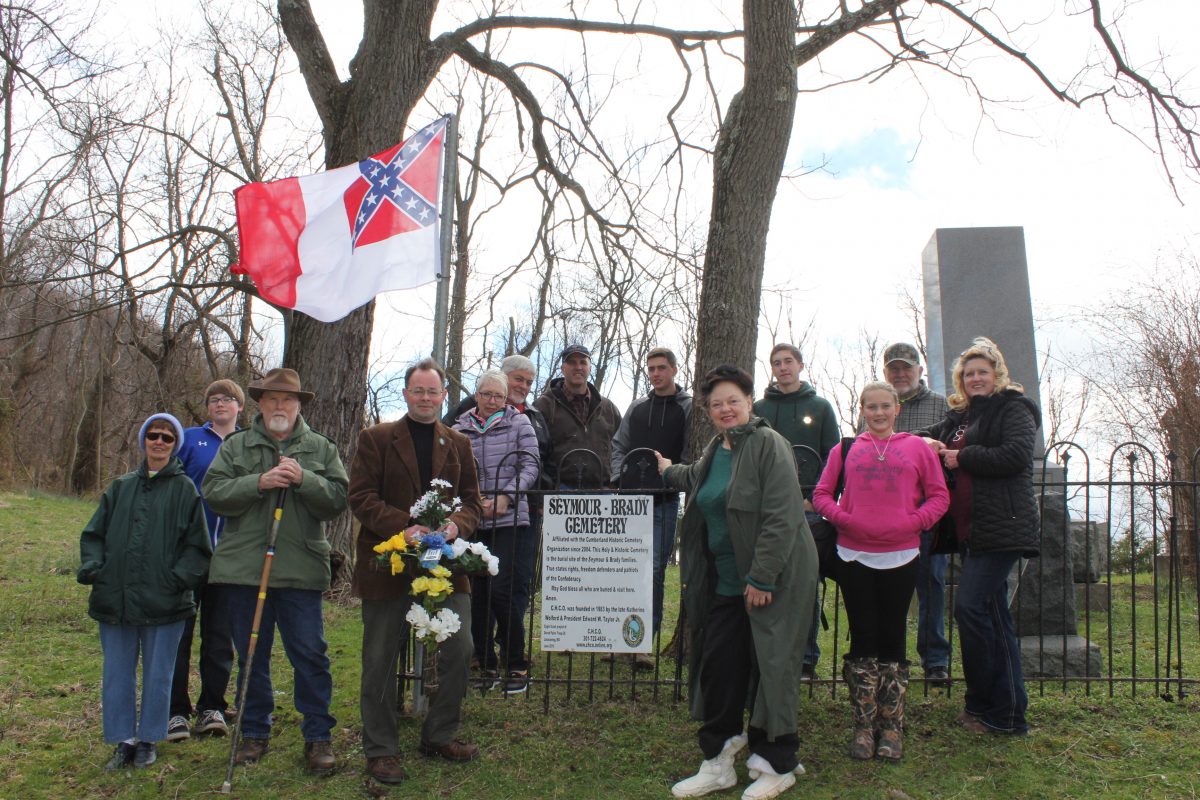 The Seymour - Brady Tour and Memorial Service April 1, 2017.
Cumberland Times-News
February 4, 2017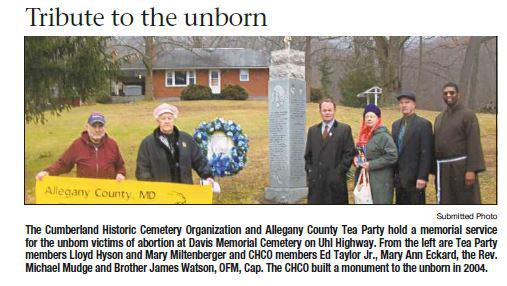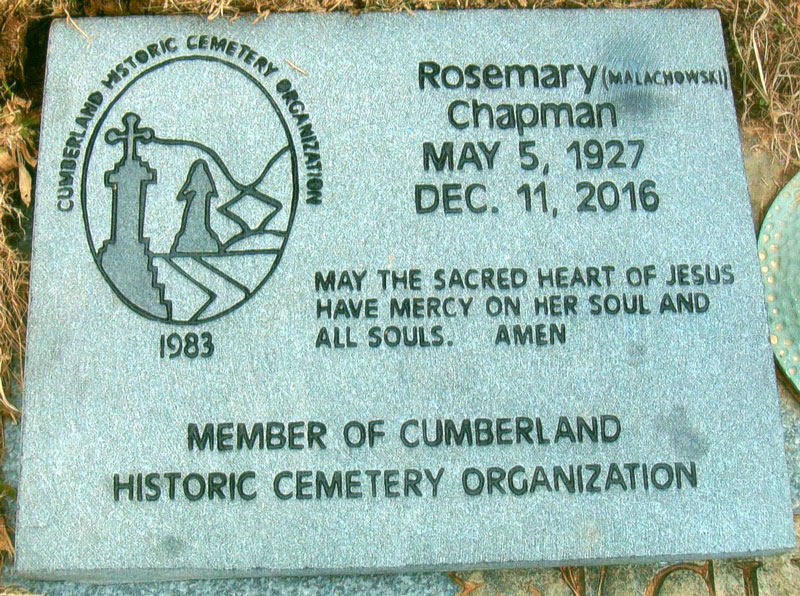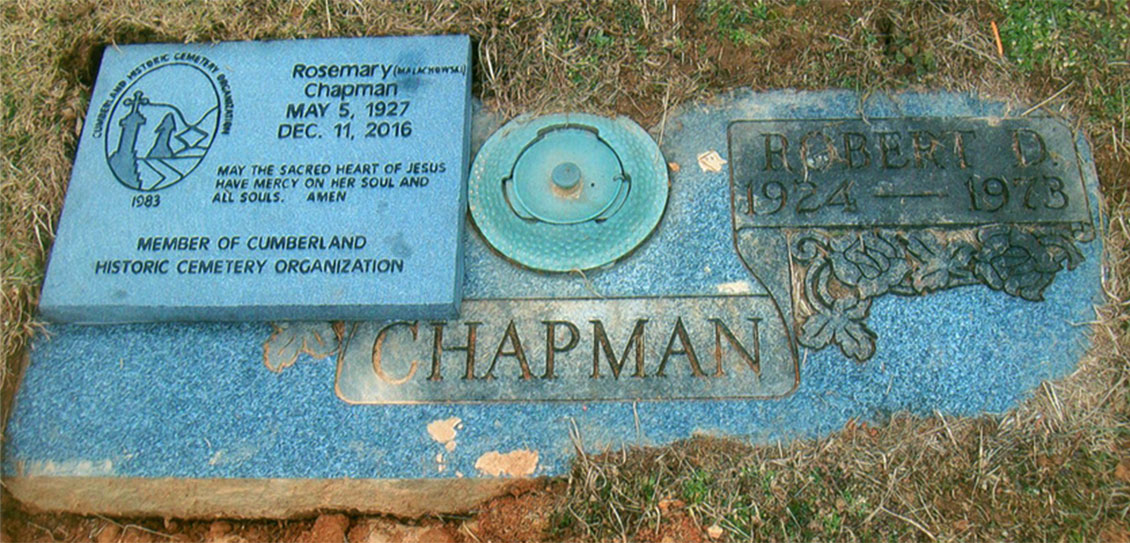 Late last year one of our longtime members died, Rosemary Chapman. She was buried at St. Mary Roman Catholic Cemetery, Uhl Highway off MD. RT. 51 south of Cumberland.